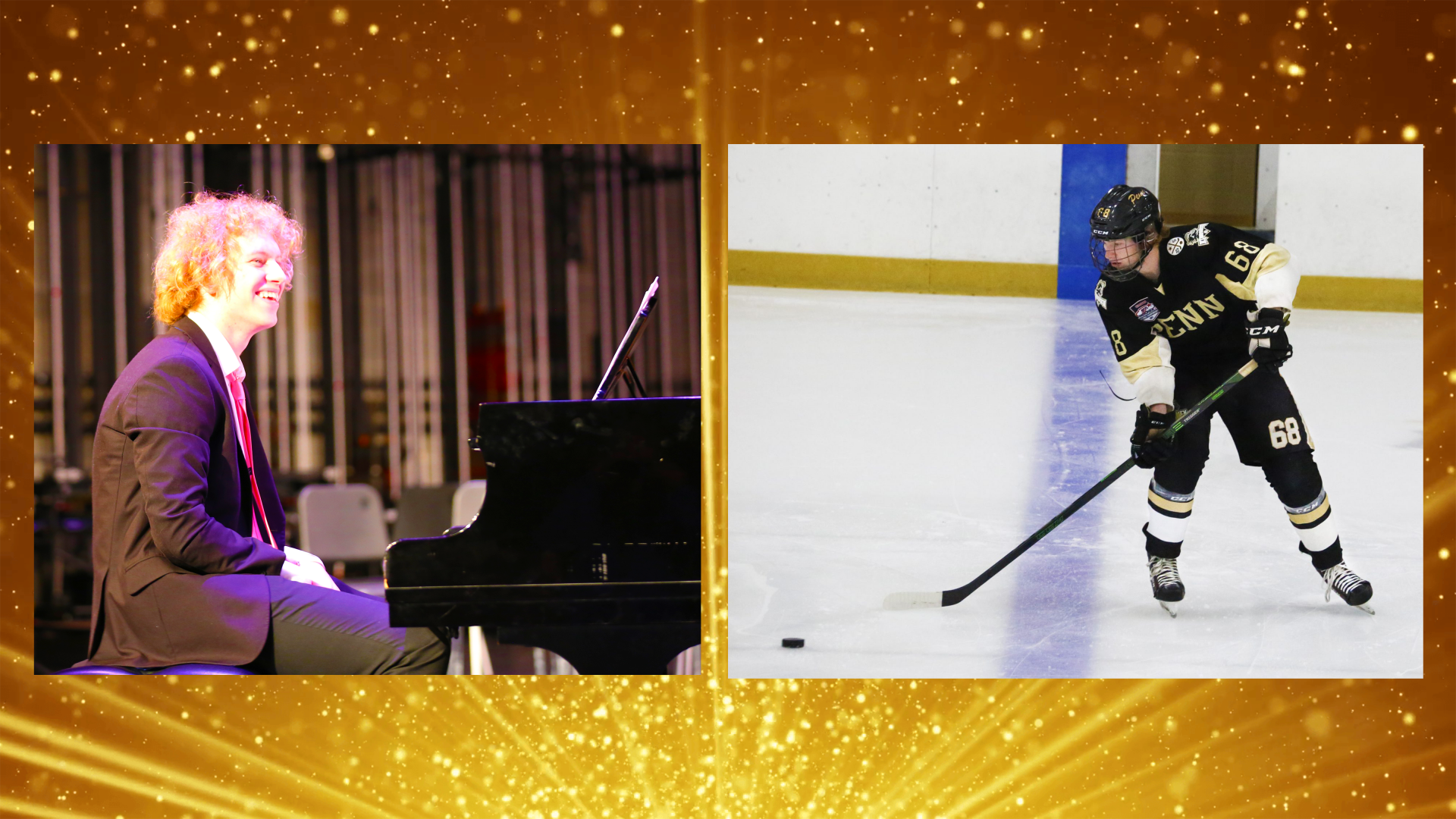 Penn senior Phillip Matous walked onto the stage at Penn's Center for the Performing Arts wearing a black suit, black shirt, and salmon-colored tie to play percussion at Penn's "Sounds of the Season" Concert in late December.
Matous, who plays piano in Penn's Advance Jazz Ensemble, played a brake drum from a car and a steel plate in an innovative version of "Guadete".
Matous finished his part of the concert at 8:52 on that Friday night. By 8:53 p.m., he was in his car on the way to the Ice Box hockey rink for the Penn Hockey Team's game against Lake Central.
"I just had enough time to get dressed and get on the ice for the start of the game," Matous said of his concert/hockey doubleheader on the same night.
After quickly changing out of his black suit and into a gold and black hockey uniform, Matous hit the ice and lit up the scoreboard for the Kingsmen with a goal.
Matous, a senior, has a classical background in piano. He's won the coveted Stickley piano competition five years in a row.
On Sunday, Feb. 13, Penn's opponent in the City Championship faced the music with Matous on the ice.
Bushy red hair flowing out from his hockey helmet, Matous maneuvered around the defense and fired in the game-winning goal with 1:39 left in the game to give Penn a stunning upset victory against No. 1 seed South Bend St. Joseph. Matous' goal allowed the Kingsmen to hoist the City Championship trophy.
Matous will now lead the Kingsmen in their quest for a state championship, a journey that starts against Bloomington at 5 p.m. on Friday, Feb. 25, in Fort Wayne.
Matous also thrives academically. He is under consideration for admission to Harvard. He has challenged himself academically and athletically, but the concert/hockey game twinbill was a demanding task.
"I feel like, especially since it's my senior year, I want to play as many of the hockey games as possible," Matous said. "When I looked at the schedule and figured out that it was feasible to play in the concert and play in the hockey game, even though it was quite difficult, I thought why not make it work.
"It was difficult and kind of crazy, and the rest of the weekend was busy as well, but it was nice to be able to get there on time and play with the team, especially scoring the first goal on a power-play and giving the team the lead," Matous said. "It was fulfilling. I enjoyed the concert and I enjoyed the game as well. It was taxing, especially since I did the same thing on Saturday, playing in the concert and then going and playing in the game. It was worth it, I feel like."
At the age of seven, Matous wanted to play the drums, or the guitar.
"Those were flashy instruments," Matous laughed. "My Mom told me that I needed to learn the piano at first. I was OK with that. I was also interested in piano.
"I started playing hockey around the same time I started playing the piano. My piano teacher wasn't very happy with my decision to play hockey. She was worried that I was going to break my fingers, but I've had good enough luck that I haven't broken any of my limbs, and I've been able to keep playing piano."
Matous said that his parents moved to the United States from the Czech Republic and encouraged him to try many different types of activities.
"My parents' European mindset was that they wanted me to be well-rounded and have a lot of things going for me," Matous said. "I really appreciate that. Because of that, I've been able to play piano, play hockey, do well in school, and I've been fortunate enough to travel and visit my family in Europe. All of that is due to the environment I grew up in.
"I think it's really important to be well-rounded. I really enjoy what I'm doing. Hockey is nice. I get on the ice and I don't have to worry about anything. It's a free and fast-paced game. Piano helps me. I let go of everything and dive into my music. That's really nice."
Matous said that he doesn't look at taking on school, hockey and piano and a hardship.
"It's really easy to manage school, hockey and piano, because those are things I really enjoy," Matous said. "I try to be as productive as I can be whatever I'm doing. If you sit down for an hour and work as hard as you can, you can get things done quickly and still have plenty of time to have lunch with your friends and have some fun.
"I like to play video games with my brother. I'll be going away to college soon, so I won't have that opportunity as much. I still want to spent as much time with my family before I go off to college."
Matous plans to major in engineering and minor in music. He would like to play college club hockey, and play in a jazz ensemble.
But before he heads off to college, Matous hopes he can hoist a state championship trophy for Penn Hockey, and perform at more of Penn's concerts.