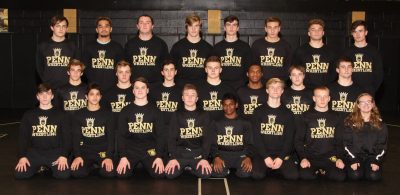 Penn High School boasted six individual champions and stormed to the Northern Indiana Conference Championship at the league meet on Saturday, Jan. 13.
The Kingsmen of Coach Brad Harper finished with 292 points. Mishawaka finished with 219 points.
Penn won its eighth consecutive NIC Wrestling crown.
Penn's Tanner DeMien started off the Kingsmen championship parade when he captured the 126-pound weight class NIC Championship with a pin in 1:39.
Michael Garcia, a last-minute entry at 160 due to the illness of Kingsmen starter Colin Wilson, pulled off a series of upsets to claim the NIC crown. He won the final with a 5-2 decision.
Noah Brown earned the NIC title at 170 with an 8-3 victory in the final.
Max Chaffee's pin in 5:43 earned him the 182 NIC title.
Rockne Hurley captured the NIC Championship at 195 with a thrilling 2-1 victory in double overtime.
Adam Berta claimed the NIC crown in the 220 division with a pin in 2:45.