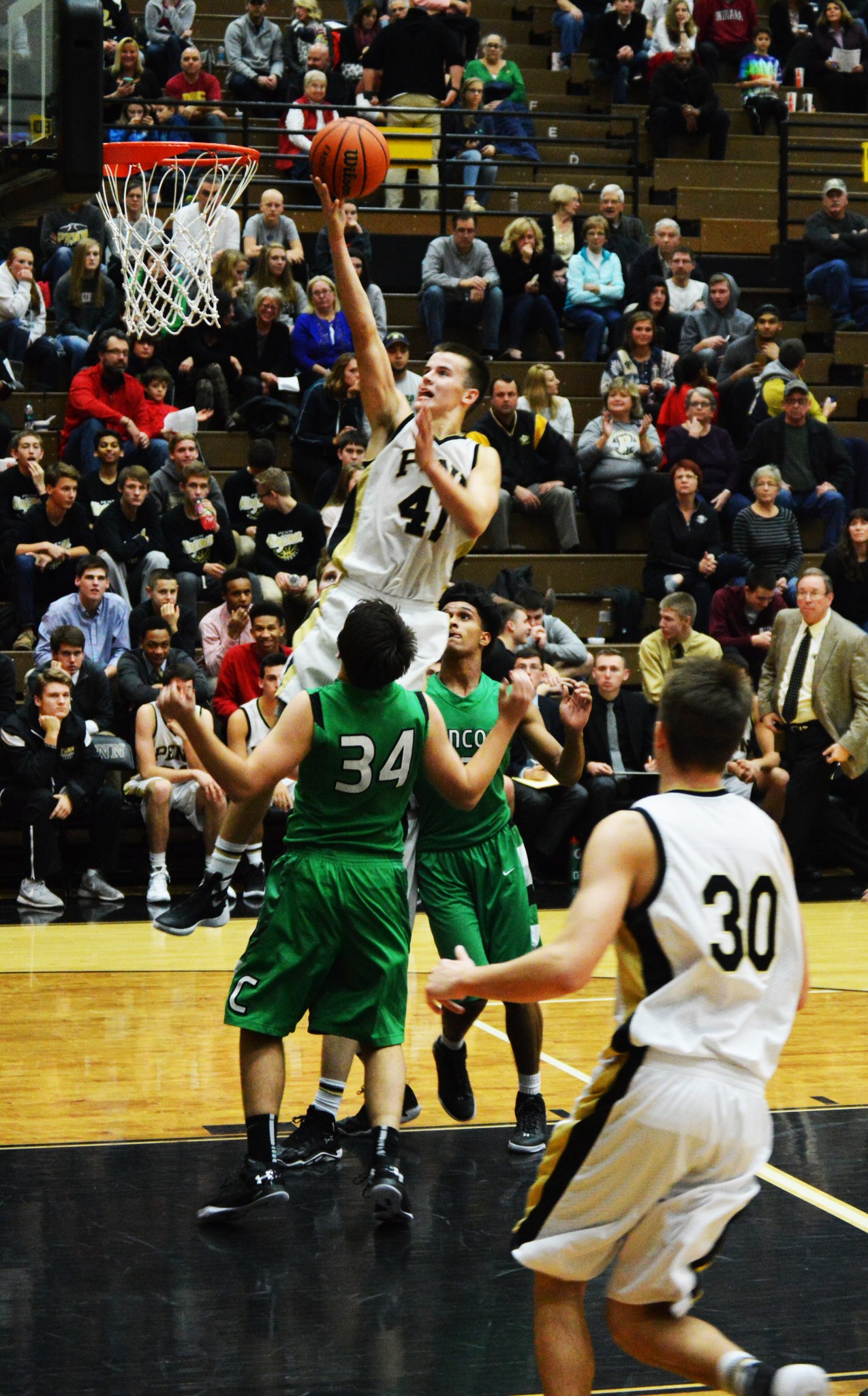 Matt Trewhella ignited a 12-0 run in the second half to help Penn rally from a seven-point deficit and knock out Northridge, 55-48, in the opening round of the Class 4-A high school boys basketball sectional Tuesday night at historic North Side Gym.
Trewhella finished with 25 points. Gunnar Dittrich scored 10 points, and Tyler Seger and Noah Applegate scored nine points each.
Penn's victory gives the Kingsmen an 11-12 record and sets up a Friday night semifinal match against Warsaw (21-1). Tip-off is scheduled for 6 p.m.
Penn head coach Al Rhodes led Warsaw to a state title in 1984. Warsaw's current head coach, Doug Ogle, served as an assistant coach to Rhodes at Warsaw.
Penn trailed 37-30 late in the third quarter when Trewhella hit a jumper in the lane with :47 left in the period. The 6-foot-5 senior then connected on a buzzer-beater jumper in the late to trim Northridge's lead to 37-34 at the end of the third quarter.
Trewhella kept the Kingsmen run going when he powered inside for a lay-up and was fouled on the play, cashing in for a free throw to give Penn a 39-37 lead with 6:44 left in the fourth quarter.
Trewhella capped the 12-0 run with an NBA-range rocket that put Penn ahead, 42-37, with 5:58 left in the game.
Kurtis Hochstetler led Northridge with 18 points.
PENN 55: Tyler Seger 9, Noah Applegate 9, Matt Trewhella 25, Gunnar Dittrich 10, Matt McCown 0, Brian Doslak 2, Noah Krathwohl 0.
Northridge 48: Christian Bach 4, Kurtis Hochstetler 18, Andrew Kennedy 6, Luke Morrison 10, Zack Welker 2, Justin Wine 0, Connor Utley 8, Nick Yoder 0.
PENN                         11        6          17        21 – 55
Northridge                 6          11        20        11 – 48
Three-pointers: PENN 3 (Seger 2, Trewhella 1), Northridge 4 (Hochsteter 3, Morrison 1). Shooting: PENN 19-of-34 for 56 percent, Northridge 18-of-42 for 43 percent. Free throws: PENN 14-of-17 for 82 percent, Northridge 6-of-7 for 86 percent. Rebounding: PENN 21 (Applegate 7), Northridge 17. Assists: PENN 5 (Applegate 2, Doslak 2), Northridge 8 (Morrison 4). Steals: PENN 4, Northridge 6 (Hochsteter 4). Turnovers: PENN 10, Northridge 7. Fouls (fouled out): PENN 10 (none), Northridge 15 (Hochsteter).