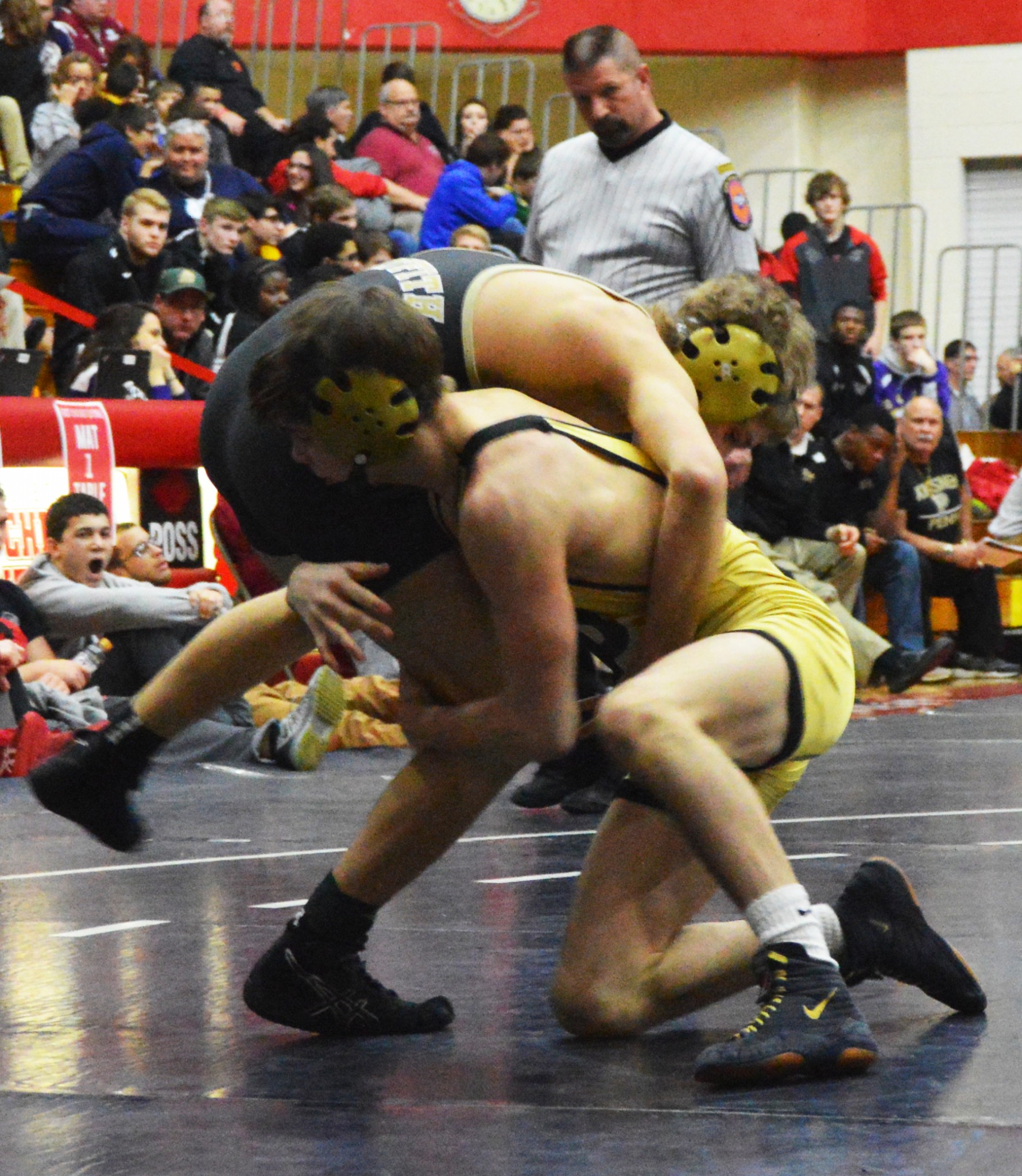 The following Penn High School wrestlers who just completed their senior season will be competing in the Indiana vs. Illinois All-Star Dual in Springfield, Illinois, on
Sunday, March 13, at 1 p.m.:
113 — Austin Slates (36-5)
120 — Drew Hildebrandt (46-1)
220 — Kobe Woods (35-2).
The meet is Sunday
at
1 p.m.
at the Prairie Capital Convention Center in Springfield, Ill.
The duals will be streamed live by Illinois Matmen.
Slates is a past state finalist, Hildebrandt won a state title this past season, and Woods won a state title in 2015.
TEAM INDIANA
Team Blue
106 Keyuan Murphy, Warren Central
113 Geoffrey Davis, Fort Wayne Wayne
120 Drew Hildebrant, Penn
126 Brock Hudkins, Danville
132 Daniel Brookbank, Perry Meridian
138 Evan Eldred, Westfield
145 Jordan Vaughn, Franklin Central
152 Steven Lawrence, Portage
160 Cayden Whitaker, Martinsville
170 Drew Hughes, Lowell
182 Blake Rypel, Indianapolis Cathedral
195 Jake Kleimola, Lake Central
220 Sam Hipple, Carmel
285 Sean Galligar, Columbus East
Team Red
106 Alex Grino, Southmont
113 Austin Slates, Penn
120 Blake Glogouski, Fairfield
126 Gaige Torres, Portage
132 Drake Rhodes, Homestead
138 Daylan Schurg, Crown Point
145 Isaac Eicher, Leo
152 Andrew Herrin, Jennings County
160 Sam Bublick, Carmel
170 Hunter Mote, Delphi
182 Cameron Jones, Lawrence North
195 Luke Elliot, Eastbrook
220 Kobe Woods, Penn
285 Cory Klem, Gibson Southern
TEAM ILLINOIS
Team Lincoln
106 Juan Arteaga, 37-12, Round Lake
113 Jake Gross, 41-13, Antioch
120 Kevin Stearns, 47-3, Orland Park (Sandburg)
126 Brady Wilsie, 44-0, Byron
132 Dylan Thurston, 40-6, Washington
138 Zach Krause, 42-3, Plainfield (East)
145 Hunter Grau, 44-0, Geneseo
152 Fernie Silva, 40-2, Rockton (Hononegah)
160 Jose Champagne, 31-0, Chicago Heights (Marian)
170 Colten Cashmore, 28-2, Hebron (Alden-H.)
182 Tony Vezzetti, 34-8, Schaumburg (H.S.)
195 John McKinney, 19-2, Troy (Triad)
220 Vinny Scaletta, 41-3, Norridge (Ridgewood)
285 Darien Kaufmann, 39-8, Glen Ellyn (Glenbard West)
Team Reagan
106 John Youseph, 30-5, Park Ridge (Maine East)
113 Darvell Flagg, 23-6, Joliet (West)
120 Jack Henderson, 28-3, Bloomington (H.S.)
126 Jacob Silzer, 35-5, Chicago (St. Rita)
132 Jarod Foiles, 37-16, Roxana
138 Jarrid Braunagel, 45-2, Belleville (Althoff Catholic)
145 Greg Krulas, 40-2, Dakota
152 Jared Packer, 44-6, Dakota
160 Nathan Olsen, 45-4, Dakota
170 Cole Witzig, 45-2, Troy (Triad)
182 Jacob Elsbury, 42-3, Byron
195 Wesley Kibler, 46-1, St. Joseph (S.J.-Ogden)
220 Austin Parks, 39-4, Crystal Lake (Central)
285 Dom Tudor, 41-2, Peoria (Notre Dame)
Team Indiana BLUE wrestles Team Lincoln
Team Indiana RED wrestles Team Reagan