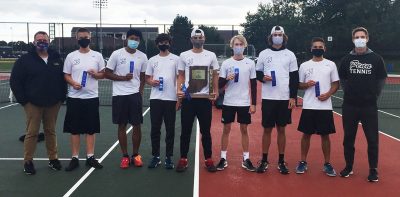 BOYS TENNIS: Penn 5, Marian 0.
Penn wins its 19th consecutive sectional crown & 26th overall.
Penn coach Eric Bowers now has 399 career wins (Boys/Girls) & 23 career Sectional Championships (Boys/Girls).
Penn advances to the LaPorte Regional semifinals on Tuesday, Oct. 7, to take on New Prairie. The matches are held at Kesling Park in LaPorte.
1. Will Thurin 6-0, 6-0
2. Aidan Sucharetza 6-0, 6-0
3. Oliver Hu 6-1, 6-0
1. Hunter Streigel/Eli Deitchley 6-1, 6-0
2. Jalen Maust/Ryan Ludwig 6-1, 6-0