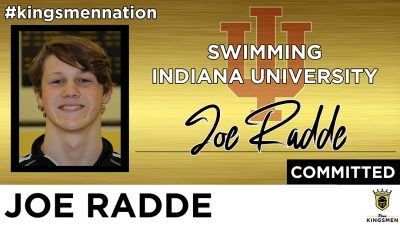 State Champion swimmer Joe Radde of Penn High School announced his commitment to Indiana University on Friday, Sept. 18, 2020.
Radde helped the Kingsmen win state last season in the 200 Freestyle Relay. Radde, who will be a senior this season, teamed with Aaron Dies, Joel Cummins and Brock Zuyderwyk to win blue ribbons in 1:22.60.
"I chose Indiana because I wanted to be surrounded by people who wanted to improve themselves," Radde said. "The caliber of the swimmers around me would push me to improve while still being able to receive a quality education.
"I am extremely honored to have the opportunity to compete at a top swimming program because it gives me the chance to race against the top guys in the nation. I know that a lot of people do not get this opportunity, so I am especially grateful to be able to continue swimming with people who care about the sport."
Radde's junior year in 2019-2020 was outstanding, for swimming and in the classroom. He competed in four events at the IHSAA State Championships. He won three out of three events at Mishawaka High School for the boys sectionals. He competed in the 200 Medley Relay, 100 Fly, 200 Freestyle Relay and the 100 Backstroke at State. The boys 200 Medley Relay took fifth place at State, with Radde swimming the fly portion. He swam the 100 fly next, placing sixth. The state champion 200 free relay won state with the second-fastest time in Indiana High School Swimming history. Right after the relay, he hopped into the 100 backstrokes and finished in 10th place.
Radde also excels in the classroom. He is a National Merit Scholarship Semi-finalist.
According to Radde, Penn has helped prepare him for an elite college swim program.
"Penn swimming has prepared me for the team aspect of the Big Ten," Radde said. "Penn swimming taught me how to contribute to a team in more ways than just scoring."
Radde's work ethic has played a major role in his success.
"Joe is one of the hardest workers I've ever met, both in and out of the pool," Kingsmen teammate Matthew Howell said. "He's always pushing our teammates to perform at their best and to be their best selves."