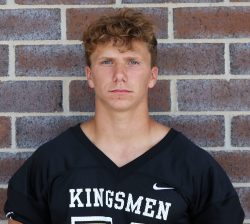 Athlete name: Kyle Riffel
Sports: Football (verbal commit to Hillsdale)/Baseball
Graduation year: 2021
Position: Running Back/Shortstop
Height: 5-11
Weight: 182
Combine results (Bench, Front Squat, Hang Clean, 40-Yard Dash, Pro Agility, Broad Jump, Vertical Leap): Bench: 225 pounds; 40-yard dash: 4.87 seconds; Vertical: 27 inches; Broad Jump: 8-11; Squat: 290 pounds.
Statistics: Gained 1,320 yards last season, averaging 6.3 yards a carry. Scored 12 TD in 2019.
Honors/accomplishments (athletic and academic): Football: All-Northern Indiana Conference (second team) in 2019.
Extra-Curricular activities/Service projects: Member of Penn's Student-Athlete Leadership Council. 
Head coach/email: Cory Yeoman – cyeoman@phm.k12.in.us
Coach's quote: "Kyle knows only one speed and that is fast. No matter if we are running individual drills, team offense or special teams, Kyle goes full tilt all the time. He is a true leader when it comes to showing others by example and with teaching the younger players." – Cory Yeoman.
Click here for a highlight video.