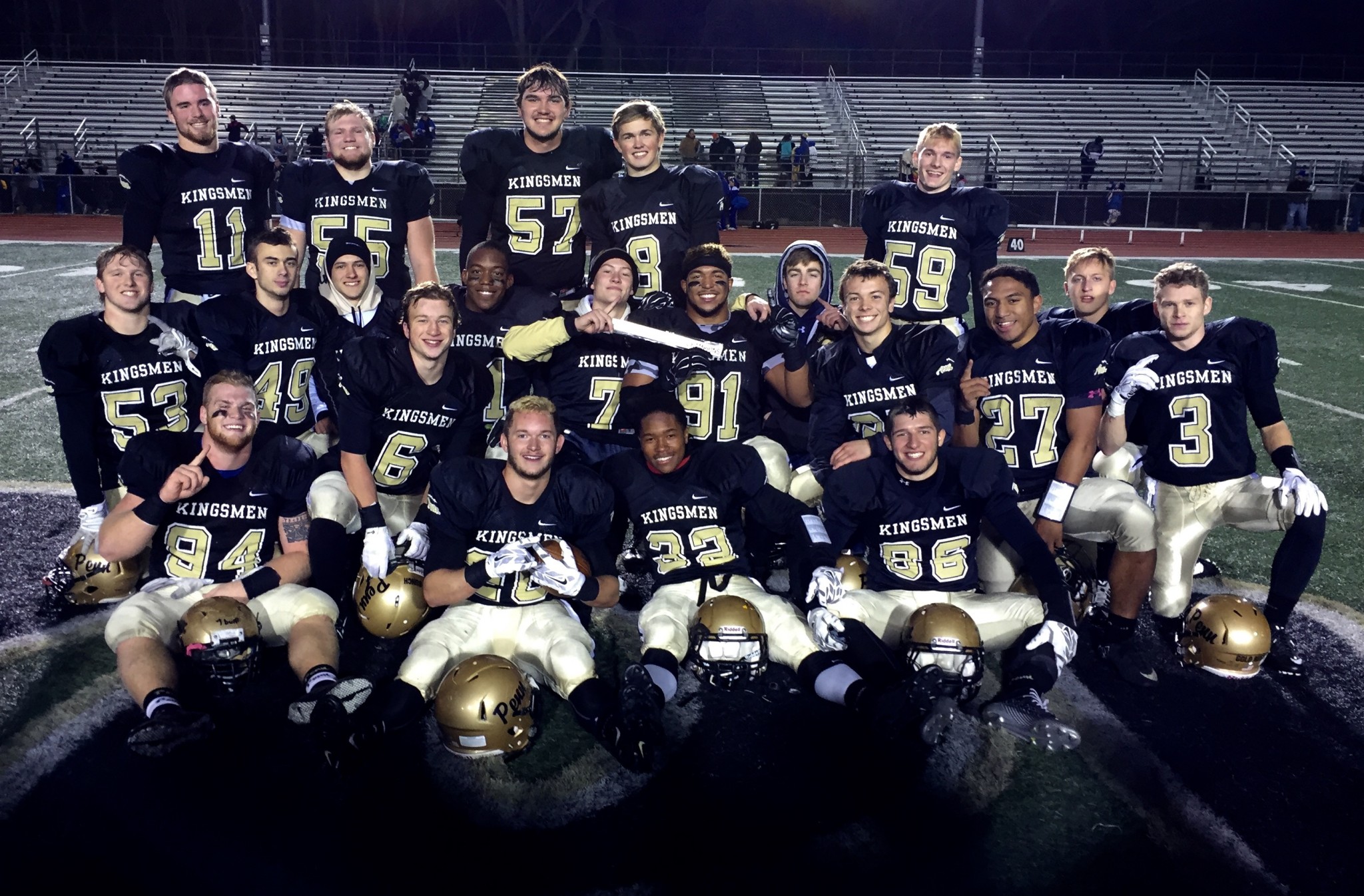 It was the one moment on Friday night when Penn High School football coach Cory Yeoman was caught off guard.
As Yeoman was being interviewed following Penn's 16-10 victory against Carmel in the Class 6-A northern semistate championship game, jubilant Kingsmen players charged in hoisting a large orange bucket, and gave Yeoman a Gatorade shower.
Emotions poured out on TCU Freed Field as Yeoman and the Kingsmen punched their ticket to the Class 6-A state championship game by decking No. 2-ranked Carmel.
Yeoman's No. 4-ranked Penn Kingsmen (12-1) will take on No. 1 Center Grove (13-0) on Saturday, Nov. 28, at 7:05 p.m. at Lucas Oil Stadium, the home of the Indianapolis Colts. Ticket information will be announced later.
Penn will be seeking its sixth state championship in football.
Defeating Carmel was a moment to savor for Kingsmen fans.
Carmel beat Penn 14-13 in last season's semistate championship game, and knocked off the Kingsmen 28-13 in the 2013 semistate title match.
"It's a big win," Yeoman said of beating Carmel. "That was a tough loss the last couple of years, and they pounded us pretty good a few years ago in the final game. Two years ago, we were in the game, thought we had our shots, and last year was heartbreaking. You have to give Carmel credit. They made a couple of more plays than we did.
"I'm proud of our guys tonight," Yeoman said. "They made plays."
A critical stretch of the game happened late in the second quarter.
Penn quarterback Camden Bohn scored a touchdown on a tackle-busting seven-yard run with 3:59 left in the second quarter, using a spin move to blast into the end zone. The only Kingsmen TD gave Penn a 10-3 lead.
Jason Alexander intercepted a Carmel pass at the Kingsmen 38 and return it 24 yards to set up the Penn TD drive.
"It was huge," Yeoman said of Alexander's theft. "They were moving the ball a little bit. He had a great break on the ball. It was another big play, just like he made last with (with an interception returned for a touchdown against Merrillville). He's a play-maker."
Alexander said that he was well prepared by the Kingsmen coaching staff for the key defensive moment.
"I was able to read it really well," Alexander said. "In practice this week, we've been concentrating on reading our keys and playing smart. I got to play smart, and I played fast."
Penn's Wild Bunch defense limited high-powered Carmel to 223 yards, a week after giving up 527 yards in a 56-38 victory against Merrillville in the regional championship game.
"A lot of people thought the defense wasn't the strong point of the team," Alexander said. "They thought we were the weak point. We made it a priority to go out there and dominate from the beginning."
Yeoman praised the Wild Bunch defense.
"Everybody has had a lot of comments about our defense," Yeoman said. "They took a lot of grief. They kept their heads up, and shut their mouths and went back and went to work. They did a lot of great things (against Merrillville). They had four interceptions, one returned for a touchdown. If they do that every week, it's a school record. But, point-wise, that wasn't what they wanted.
"They were a little embarrassed," Yeoman said of his defense about the way they played in the Merrillville game. "They responded the right way, like all of our guys have done all year when things don't go their way. Instead of pouting and whining, they go back to work. I'm so proud of how the Wild Bunch responded."
Offensively, Penn racked up 286 yards against Carmel.
Kingsmen senior Sam Scholtes booted three field goals – 21 yards, 40 yards, and 38 yards.
Scholtes' 40-yard field goal was against a stiff wind as time expired in second quarter, giving Penn a 13-3 halftime lead.
Bohn led Penn's offense with 13-of-17 passing for 169 yards. He also rushed for 66 yards.
John Ohlson hauled in nine passes for 116 yards.
Will Vakalahi led Penn's defense with nine tackles, including one tackle for loss.
Kobe Woods hammered Carmel for seven tackles.
Austin Laughman also had an interception for Penn.
Yeoman credited his senior leadership for taking the Kingsmen to the state championship game.
"My biggest concern every year has nothing to do with who is back," Yeoman said. "My No. 1 concern is how is my leadership going to be, and how are they going to respond. It's easy to lead when everything is going smooth, it's how do you respond during tough times, and you never know until they get stressed out and see how they respond. That has been huge for us. They've done a great job all year long. We've got guys who aren't starter, but who are working extremely hard on the scout team and the prep teams, doing everything they can to be a captain, and that's what captains do."
Bohn loved the moment, but knows that the Kingsmen quest isn't finished.
"It feels great," Bohn said in the midst of a raucous post-game celebration. "We had a great week of preparation. The team was really pumped up. The entire school was excited the entire week. It was great to come out and get a win.
"We had a great week of preparation. We were able to throw the ball around a little bit. The running game was on point. We knew this team had a great defense and we weren't going to get big plays, but we were able to chip down the field and score when we needed to. The receivers were locked in, our offensive line was locked in, the running backs had a great game. I think everyone executed well, and that allowed our passing game to be successful.
"It's great to be with the guys for another two weeks. It's exciting to be going down to state. We hope we come out with a win."