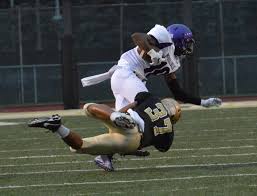 Paul Moala turned Friday's high school football game against Merrillville into Grand Theft Football.
Moala, a 6-foot-0, 190-pound junior, ripped off a pair of Merrillville passes and returned them for touchdowns to lead the Kingsmen to a 35-2 victory on Friday, Aug. 26.
Penn is 2-0 and hosts Birmingham Brother Rice on Friday, Sept. 2.
Moala's first Pick-6 was a 48-yard interception return that gave Penn a 7-0 lead in the first quarter.
Moala delivered the dagger with a Pick-6 in the third quarter, a 53-yard interception return that put the Kingsmen in command, 28-0.
Here's an interview with Paul Moala:
Penn's Wild Bunch front line of Keegan Hurst, Nate Boone, James Morris and Connor Schneider sent Merrillville backwards with seven quarterback sacks.
Quarterback James Iapalucci was 8-of-13 passing for 108 yards and two TD strikes.
John Ohlson made a brilliant over-the-shoulder catch for a 16-yard TD.
Matt Kominkiewicz hauled in a 25-yard TD pass from Iapalucci.
Penn coach Cory Yeoman was pleased with his team's improvement from last season's opener.
Here's an interview with coach Yeoman:
Penn                 7   14   7   7 — 35
 Merrillville     0   0   0   2 — 2
P — Paul Moala 48 interception return (Jared Hancock kick).
P — Matt Kominkiewicz 25 pass from James Iapalucci (Hancock kick).
P — John Ohlson 16 pass from Iapalucci (Hancock kick).
P — Moala 53 interception return (Hancock kick).
P — Rashid Maclin 4 run (Hancock kick).
M — Safety.
Penn      Merrillville
First downs        10               13
Yards rushing    135             113
Yards passing    108             95
Passing               8-13-0        12-24-2
Punting               6-32.8        9-26.8
Fumbles-lost     0-0              0-0
Penalties            0-0              1-10