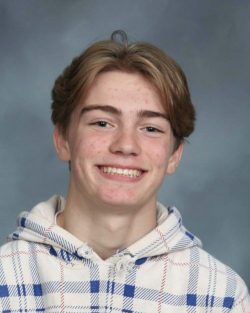 Klayton Kuhlman is a Junior at Penn High School. He is a member of the Kingsmen Wrestling Team.
How long have you been wrestling?: Since I was 4.
What's your favorite memory from wrestling?: Going to Disney sophomore year.
Do you plan on wrestling in college?: No.
What lessons have wrestling taught you?: To keep going when things get hard.
If you didn't wrestle, what sport would you want to play?: Lacrosse.
What's the hardest thing about wrestling?: Making weight and maintaining it.
What's the farthest you have traveled for wrestling?: Vegas
What's the best way to get hype before a meet?: Listening to music.
Have you wrestled for any other clubs or just Penn?: A few clubs here and there but mainly only Penn.
What's your biggest accomplishment in wresting?: Going to compete in Vegas.