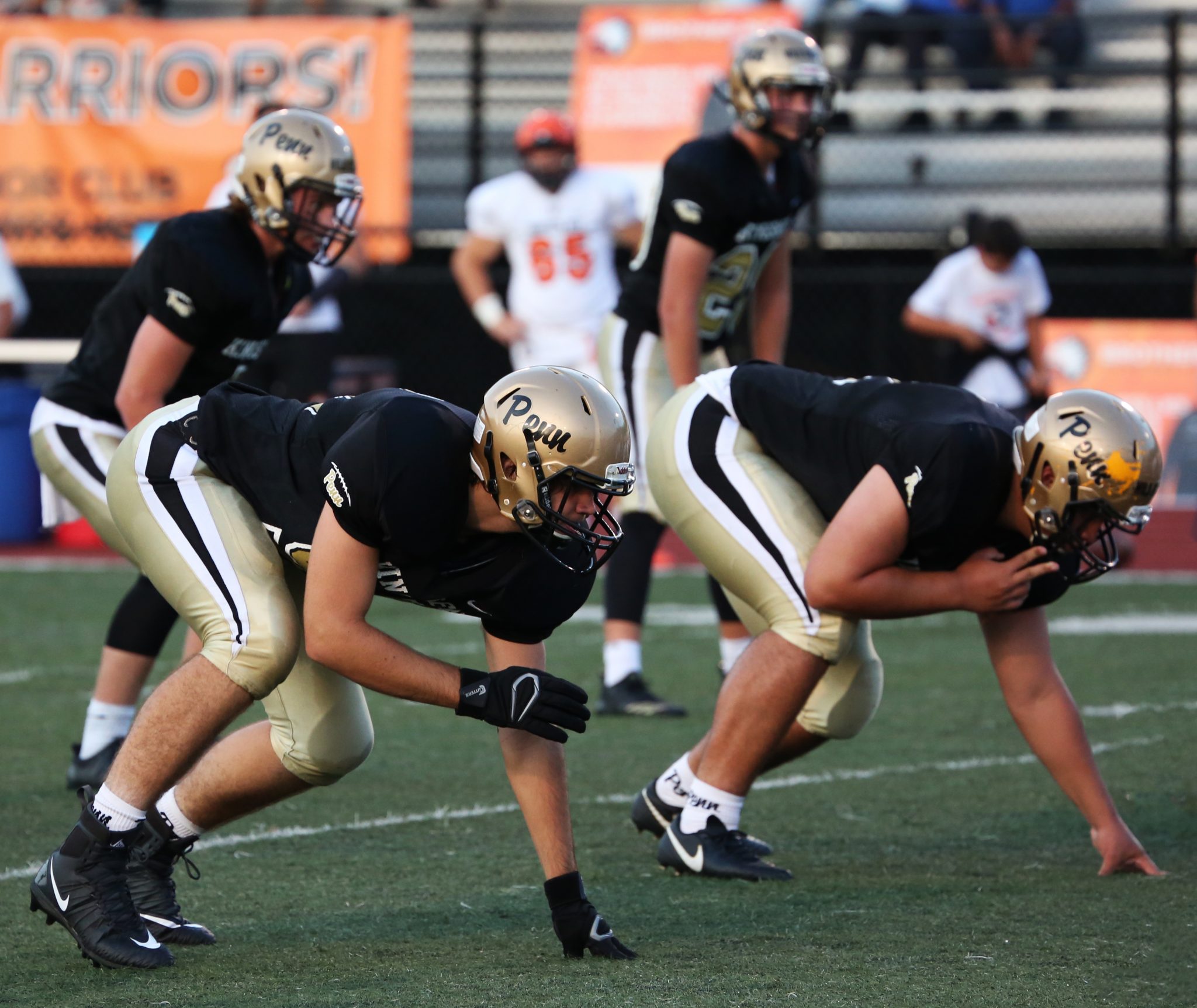 The Penn Kingsmen host the Cougars of New Prairie this Friday, Oct. 9, for Senior Night. Kickoff is set for 7:30 p.m. ET, with senior presentations beginning at 7:05.
The Cougars return to action after a shutout win last week over South Bend Riley. Penn's last home game of the season follows a strong performance in a victory at South Bend St. Joseph.
New Prairie's offense is all about the ground game. This year, over 85 percent of their plays have been runs, resulting in 80 percent of their total offensive production.
Sophomore standout Noah Mungia has been the workhorse for the Cougars this season, accumulating 1,245 all-purpose yards. Over the last three games alone, he is averaging about 6.5 yards per carry and his best game came against one of the Cougar's best opponents up to this point, where he posted 230 yards against Andrean. He will be running behind an offensive line that averages a height of 6-foot-3 and a weight of 255 pounds.
Their line will be facing off against a stout rotation of players from Penn's Front 7. Of Penn's defensive lineman and linebackers, 21 different players have recorded at least 2 tackles, and 16 of them, at least 1 tackle for loss. Safety Zach Hoskins leads the team in total tackles with 53 tackles – 41 solo tackles and 12 assists.
With their strong rushing attack, New Prairie has not felt the need to air it out too often. In fact, they only have 25 completions on the year. Senior quarterback Ian Skornog is responsible for 24 out of those 25 completions on 52 attempts and three of the team's four touchdowns. It is also worth noting that freshman Marshall Kmiecik stepped in last game and threw a touchdown pass to Zane Gazarkiewicz, the team's leading receiver. Gazarkiewicz has 10 receptions for 164 yards in 5 games.
On the other side of the ball, the Penn secondary has recorded four fumble recoveries and 7 interceptions this season (2 last week), with cornerback Tye Zahner returning one for a touchdown. The duo of Zahner and other outside cornerback Seth Jankowski have accounted for 11 and 9 plays on the ball respectively. With Penn allowing 0 passing touchdowns in more than half of their games, it may be some tough sailing for New Prairie if they try to move the ball through the air.
Penn's offense got going last game, despite the absence of starting running back Kyle Riffel. Alec Hardrict filled in beautifully, exposing the St. Joe defense for 238 yards and five touchdowns. That game raised Hardrict's season touchdown total to 10. Penn's offensive line was helped by the addition of 6-3 285-pound center Eric Meeks to the lineup. The recent Marshall commit got off the line and paved the way for Hardrict's interior success all night, along with guards Joe Hawley and Joe Goralczyk. That group should only get better with more playing time as a unit.
New Prairie's entire defense is littered with experience, as their top 3 tacklers are all seniors. Senior linebacker Brandon Kasinger is the leader of that group. This year, he has shown out with 45 tackles, 7 tackles for loss, and 3 sacks. Those statistics all lead the team. The defensive line is anchored by a pair of 200-pound seniors – Koley and Jake Weinberg. They have combined for 52 tackles, 5 for loss, splitting those accomplishments fairly evenly.
Quarterback Ron Powlus has passed for more than 1,000 yards and 8 touchdowns so far this year. He has done a nice job of spreading the ball around the field. His top three receiving targets each have 2 or more touchdowns on the year. The running backs also get involved in the passing game, catching 16 balls for 182 yards and a touchdown this year. One of the concerns of the passing game, however, is the offensive line. The Kingsmen have also had three games where they gave up 4 sacks and have surrendered a total of 16 sacks on the season.
Coming off the edge for New Prairie are the aforementioned Jake and Koley Weinberg. Jake has 1 interception, 1 pass breakup, and a fumble recovery to his name. Koley adds two more fumble recoveries. Also as mentioned previously, there is also a large number of seniors in the back end of the Cougar's defense. 3 out of the 4 players with at least 1 pass breakup are 4th year players. New Prairie has forced a total of 11 turnovers, so although Penn has only committed 3 this season, Powlus should be extra aware of possible strip sacks and cornerbacks undercutting routes this Friday. Finally, the Cougars have 3 blocked punts/field goals on special teams. If Penn's protection slips up, that could be the turning point of the game.
This matchup should be fun to watch as two teams that pride themselves on their physicality duel it out. Also, with both the Kingsmen and New Prairie looking for a conference victory, this game could have a huge impact on the final outcome of the NIC North division standings.