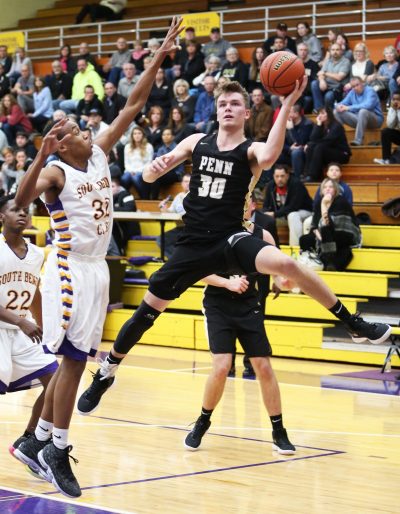 By GARRETT WENZEL
The Kingsmen boys basketball team headed to South Bend to face the Clay Colonials on Tuesday, Dec. 5, to open the 2017-18 season. The Kingsmen scored a 70-60 victory in the Northern Indiana Conference battle.
Noah Applegate paced Penn with 30 points. Noah Krathwohl muscled inside for 18 points, and Kegan Hoskins had a double-double with 12 points and 12 rebounds. Drew Lutz dished out nine assists.
In the first quarter, both teams exchanged baskets back and forth, but the Gold-and-Black Attack had a 10-4 run the end the first quarter as the Kingsmen lead 20-12 after the first quarter. In the second quarter, the Kingsmen took control with having runs of 10-3 and 9-3 and lead the Colonials 40-22 at the half. Noah Applegate led the Kingsmen with 20 points in the first half.