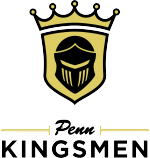 Penn defensive back Paul Moala and Kingsmen defensive tackle James Morris were named to the Indiana Football Coaches Association All-State Top 50. They led the Kingsmen to a 12-2 record and the Class 6-A State Championship Game.
Moala, a 6-foot-1, 200-pound Notre Dame recruit, returned two kickoffs and two punts for touchdowns in 2017. He led Penn with 79 tackles. Moala recovered two fumbles, intercepted one pass, and scored two defensive touchdowns. He blocked two kicks. Moala also scored two receiving touchdowns this season.
Morris, a 6-1, 230 Senior, punished Penn opponents with 45 tackles and 9.5 sacks.
Four other Penn players were named Class 6-A All-State.
Senior Offensive Tackle Ty McCaskill (6-6, 310), Senior Wide Receiver Zach Usenick (6-3, 190), Senior Placekicker/Punter Max Chaffee (6-0, 185), and Sophomore Offensive Tackle Tate Johnson (6-4, 275) received IFCA All-State honors.