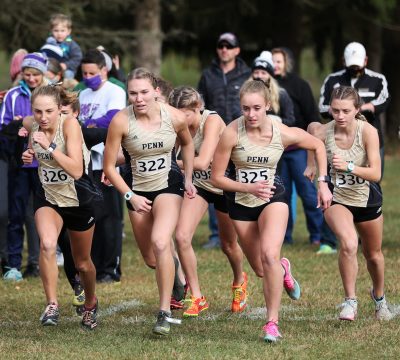 One season after the Penn Girls Cross Country Team fell five points short of qualifying for the State Championship race, the Kingsmen punched their ticket to state.
Penn placed fifth in the New Haven Semi-state at Huntington University on Saturday, Oct. 24, 2020.
"We ran some incredibly gutsy races today on the hardest course we've seen all year to advance to the State Finals," Penn head coach Michael Clements said. "After falling five points short of this goal a year ago, I'm ecstatic and I couldn't be prouder of every single one of the ladies.
"We showed that the strength of our team truly is the pack.  Just like a family supports each other and all chip in when things get tough, we saw a couple break out performances from Julie, Mary and Ava that helped spur us on and let us race on the final day of the season."
The Kingsmen compete in the State Championship race at 11:30 a.m. on Saturday, Oct. 31, at the LaVern Gibson Cross Country Course in Terre Haute.
PENN: 14. Julie Smith 19:16.3, 36. Mary Eubank 20:01.9, 40. Ava Gillis 20:09.0, 58. Morgan Gannon 20:27.7, 71. Nicole Marshall 20:44.4, 74. Ellie Stabnik 20:47.1, 77. Haley Makowski 20:51.4.