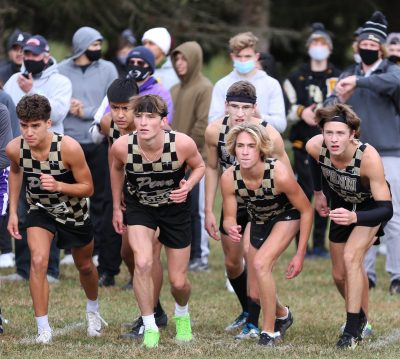 The Penn Boys Cross Country Team qualified for the State Championship race by placing sixth at the New Haven Semi-state on Saturday, Oct. 24. 2020. The event was held at Huntington University.
Coach Tom Miller's Kingsmen will compete for the state crown on Saturday, Oct. 31, at the LaVern Gibson Cross Country Course in Terre Haute. The Boys race starts at 3 p.m. ET.
"We had a great team effort today led by the runner-up finish of Mariano Retzloff," Miller said. "We had four of our seven guys run season best times (Mariano Retzloff, Ben Boardley, Jason Juarez, Nick Probst). That's what it takes at this point of the season to advance to the next level."
PENN: 2. Mariano Retzloff 15:34.5, 35. Dillon Pottschmidt 16:38.2, 47. Ben Boardley 16:46.9, 73. Jason Juarez 17:09.9, 88. Nick Probst 17:17.2, 96. Carter Kaser 17:29.4, 131. Caleb Evans 17:48.8.