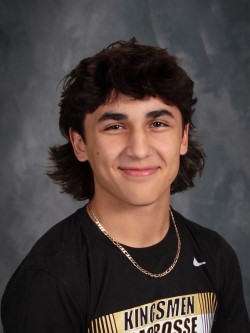 Tommy Limberopoulos is a long member of the Penn Varsity Hockey Team. He is know for the leadership and guidance that he brings to the team.
What is your morning routine before a big game?
"It's pretty simple, I just wake up take a shower, get dressed get a good meal in, and head to the rink."
What do you tell yourself to get your head back in the game after a bad performance?
"That there is always something I can do better. Nothing is ever perfect. I've been told you learn more from your failures than your successes."
When did you start playing hockey competitively?
"I've been playing travel hockey since I was 7 or 8. But it got more serious in 8th grade."
What advice would you give a beginner in hockey?
"Fall in love with the game. The more you put in the game, the more you get out of it."
Do you wish to play hockey in college and if you do plan on what college would you like to attend?
"I do plan to play college hockey or junior hockey. I don't know where yet but hopefully, a good opportunity comes to me."
Why did you start playing hockey?
"My dad played at Penn and he was the one that got me into it. It looked fun and it was fun to play so I just kept playing."
How do you stay motivated when you don't want to play or go to practice?
"I always remember that I'm on a team, so when I skip or don't try . I'm not only failing myself, but I am also giving up on my teammates. It goes too fast to miss any of it. As a freshman, I always thought that it was gonna be a long 4 years but now as I start the junior season I realize that it goes so fast."
How are you trying to improve hockey?
"I'm at practice two times a week. But when I'm not on the ice I'm at the gym, or just working on my game at home."