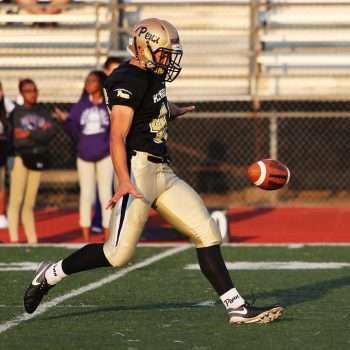 By HAYDEN BERG
Max Chaffee started his high school career as a linebacker.
Now, he's the seventh-ranked punter in the nation according to Kohl's Kicking Camp rankings.
Max Chaffee has always loved punting and is not planning on stopping that anytime soon. Over the summer, he attended many of the nation's top punting camps. He went to Wisconsin, Ohio State, Michigan and Northwestern.
Chaffee said that he would love to attend Notre Dame, but is still not sure yet on what he wants to do. He was the top punter at three punting camps over the summer, including Ohio State, Notre Dame and Michigan, he competed in the National Scholarship Camp in July. He graded out at the 5-star level, and his overall hang time, distance and consistency placed him among one of the top punters in the nation.
Chaffee became serious about punting his junior year. He tried punting as an eighth-grader and always kept it in mind.
Then, as junior, he practiced punting again, and realized his punts were good enough to try out for the varsity.
"I've completely worked on punting since I became really serious about it going into the summer of my junior year," Chaffee said. "Every night, to become more flexible, I do 30 minutes of yoga stretches. I spend a total of two and a half hours every day working to be a better punter. If I'm not punting, I'm working out. I watch film of great punters and try to learn from them and add that to my arsenal."
Everyday, Chaffee is looking to improve something, and critiques himself on everything possible to make him the best he can. He likes to go out there and take everything he practices and help his team out the best he can.
"Max is a very important part of  the team especially when they are backed down in bad field position," Penn head coach Cory Yeoman said. "He can go out there and help his defense out tremendously."
In the first game of the season against Valparaiso, Chaffee had a incredible punt, booming the ball 78 yards. He averages 42.3 yards a punt. Opponents average 30.2 yards a punt.
"I am very grateful to be part of the team," Chaffee said. "It has been a great experience for me and I wouldn't trade it for anything."