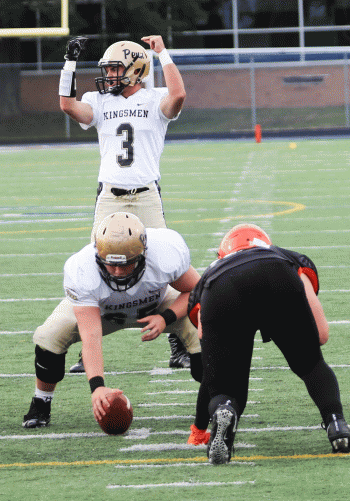 By BEN RUSHEMEZA
Starting Center Mitch Bernard takes control when he's on the field for the Penn Kingsmen.
Thanks to Bernard, the Kingsmen offensive line has forged into a shield for quarterback Ryan Lynch.
Center is a key position on the offensive line. Bernard has been Penn's starting center for two years. The Kingsmen are 7-1, and the only loss — a 12-7 setback at Valparaiso — came with Bernard on the sidelines because of an injury.
Being a center is a hard job to do.
"The challenges of being a center are being a focal point and making sure you get the calls down," Bernard said.
The Penn experience for Mitch has been all about brotherhood and the best the team can do for ultimate success.
Bernard appreciates the efforts of Penn's coaches to help him develop into a strong leader.
"Coach-wise, Coach Laidig and Coach Cory have been positive influences for me," Bernard said. "At the beginning they train you hard to help you understand."
To his coaches, Mitch is a good leader that helps improve the Offensive line.
"What makes Mitch an effective center is leadership, that's a huge part," Coach Laidig said. "Also the mental side of him knowing everybody jobs and how hard he works."