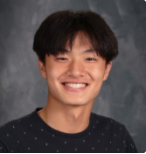 Name: Matthew Zhang
Sport: Football
Instagram handle: @matthewxzhang
Hashtag that best describes you or your philosophy: #workhardplayhard
What is the most important lesson you've learned through Athletics?: The most important lesson I have learned from sports is to always try your hardest and never give up, and eventually, you will succeed.
What are your pre-game rituals?: My pre-game ritual is to listen to Lil Baby at max volume with my airpods. Goods songs are Wants and Needs, Drip too Hard, etc. Travis Scott, Young Thug, Gunna, Carti, and Pop Smoke are also valid.
Who is a player (at any level) you look up to, and why?: I look up to Pat McAfee because he made a normally boring position, punter/kicker, fun to watch.
What do you love about representing Penn High School?:  I love representing Penn High School because I have made so many friends here since the community is so awesome and inviting.
What traits do you love in a team leader?: A team leader should possess passion, motivation, and the true skill of leadership in order to be a good leader.
What advice would you give a freshman about Penn Athletics?: Freshmen should be aware that they won't get the starting varsity position at first but work hard hard during practice. Also hit the weight room – Penn has a free facility so take advantage of it .
What is your favorite sports movie, and why?: The Sandlot because Squints is a goat and faked drowning so the lifeguard could save him.
What is your favorite pig-out food?: My favorite pig out food is Chick-Fil-A spicy chicken sandwich with fries and chick fil a sauce.
What do you love about your sport?: What I love most about football is when teams are down and make a epic comeback at the last second to win the game. Also, the student section is so hype, I love it.
If you can have lunch with any living person, who would it be, and what would
you talk about?: I'd have lunch with Danny Duncan and just talk about his life and what goes into making his entertaining videos.