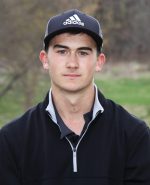 Josh Yoder is a Senior on the Penn Golf Team. Last season, Yoder helped lead the Kingsmen to a No. 7 finish at the State Finals.
What is your favorite part about competing?: My favorite part about competing would be that I get to play at a ton of different courses and being able to do it with some of my best friends who are on the high school team.
What is something you do before a match?: Before each match and tournament, I always mark the golf ball I am going to use with 2 dots on each side, and my initials (JY) on the other side of the ball. It's something I've done for so long and I continue to do it before every match.
Why did you choose to go to IUPUI?: I chose to go to IUPUI because it is equipped with some of the best college coaches and they provided a really good environment for me. They also have great facilities where I feel I can really take my golf game to the next level and I also like their location.
What is the strongest aspect of your game?: I would say the strongest aspect of my game would be my putting. It's something I have always put a lot of time in practicing.
What is the best advice you have received?: The best advice I have received would be "The best shot is always your next one."
What advice would you give to young golfers?: Advice I would give to younger golfers would be that before you start seeing results and awards, you have to put in the hard work and have the dedication to work hard and achieve your goals.
What is your favorite course to play?: I don't have a favorite course, but some of the nicest courses I have ever played on are Pebble Beach and Medinah Country Club.
What are your greatest achievements so far in your golfing career?: The greatest achievements in my golfing career would be winning Penn Golf MVP 2 times, winning sectionals and NIC my first 3 years at Penn, making it to the state finals the past 2 years, and receiving a scholarship to play Division I golf.
If you had to choose one food to eat for the rest of your life what would it be?: One food to eat for the rest of my life would be a chicken sandwich from Chick-Fil-A.