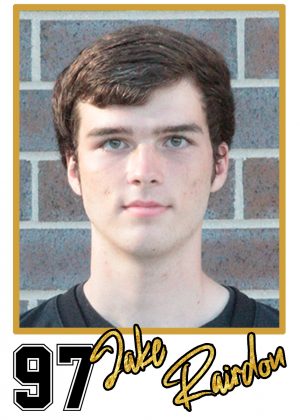 What has been your biggest challenge when you started playing football?: My biggest challenge has overcoming a few injuries through the years, most notably two sprained ankles.
What motivates you?: What motivates me is my family as well being fortunate to play the greatest game ever invented with all my friends.
What are some things you can do to improve your game?: I'm undersized for a defensive end, so that would be an area to improve.
Who is your favorite professional athlete to watch and what is one skill you could take from them and add to yourself and why?: Right now, I would have to say Jaylon Smith from the Dallas Cowboys. The way he plays as well his story from overcoming a career-threatening injury to being one of the best as his position is truly incredible.
Is there a different sport you thought about playing or wanted to play?: I played basketball up until sophomore year and I also ran track my freshman and sophomore year.
What is your current number and is there any reason why you chose that number?: Right now, I'm No. 97. This was the number I was given as a sophomore and it grew on me so stuck with it.
Is there  any position you could play other than the position you play now what would it be and why would you switch?: In the past I have played all over the place, but I've grown to know defensive end in and out so I don't think I would be able to switch and have the same results.
Do you have any pre-game motive or ritual?: I usually just listen to music and keep to myself in order to clear my head and make sure my mind is where it has to be.
Outside of sports what are some things that you do in your free time: I love to play basketball and other games with friends and watch whatever sporting events are in season.
What is one thing that you think you yourself needs to work on and what is something you think the team needs to work on to become better?: This year I have really tried to focus on being a leader and taking some of the underclassmen under my wing to help them learn. That is something I have certainly worked on. As for my team, there is nothing really that I would change I love all of my brothers out there and am very thankful to be able to play with them.