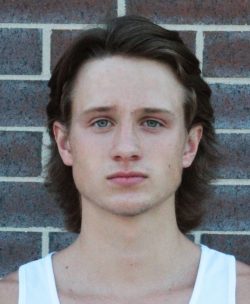 Dillon Pottschmidt is a Senior at Penn High School. He was a captain on Penn's State Finalist Boys Cross Country Team, and participates in Track and Field. He is on track to graduate with honors.
What are your plans for college?: I want to run at the D1 or D2 level, as well as go into pre-medicine . Right now Hillsdale college is at the top of the list.
What has the been your best memory from high school Cross Country and Track: Putting in work training year round with my teammates/brothers.
What are your best times?: 16:32 for 5k. 4:37 in the mile. 2:01 in the 800m dash. 51.7 in the 400m dash.
Has anyone else in your family run competitively?: My dad ran at the collegiate level at Eastern Michigan. He also has run the Boston and Detroit Marathons. My sister also ran at Penn and competed at Eastern Michigan at the collegiate level as well.
 Who inspired you to become a runner?: I'd say my dad, as well as my sister. Just seeing and growing up in this type of running environment, I also have it in my blood to run so I knew it was for me.
What would you tell a freshman to give them some advice?: Take care of the little things first, and the big things will become easier and easier. Only learn and work on things you can control.
What have you learned with your experience at Penn Track and cross country?: I've learned that through hard, smart work, consistent training, and learning from failure, that anything can be possible in terms of racing and winning.
What were your thoughts heading into the season? Did you think you would have a season?: We all knew that at any moment things could shut down, so we just took it one day at a time, and kept training as if each day was our last day, or last workout.
What are your goals for track this year?: Go sub-4:20 in the mile, and to work on my mid-distance speed hopefully to go under 2:00 in the 800-meter dash and :49 in the 400-meter dash.
What is your dream school?: When I was younger my dream school was always Stanford University.