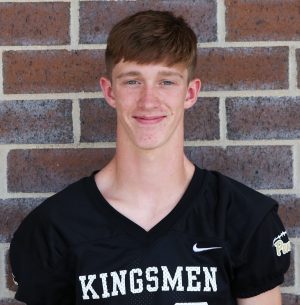 Penn Football Player Carson Mumaw is a 6-foot-3, 166-pound Junior. Mumaw is a starting wide receiver for the Kingsmen. Read a Q&A with Mumaw by the Pennant's Tye Zahner:
1. What was your best moment in football? : My best moment in football was earning a spot on the Varsity as a sophomore.
2. Who is your favorite player to watch in the NFL and why?: My favorite player in the NFL to watch is Lamar Jackson (Ravens QB), because he is a do-it-all kind of guy.
3. How are you motivated for football?: I am motivated in football because I want to help my team in any way I can.
4. What position is the hardest and why?: In football, I think the hardest position to play is quarterback, because you have to know your own personal responsibilities along with everyone's on the offensive side of the ball.
5. How would you describe the team spirit?: I would describe it as happy and everyone's enjoying themselves but are focused when they need to be.
6. Why did you start playing?: I started playing because my parents bought me Madden for Christmas and I liked that game so I took it to real life.
7. What coach has taught you the most?: Coach Tugmon the wide receiver coach taught me the most, he taught me mostly how to block defenders and the concepts that work vs. specific types of defenses.
8. Why did you pick No. 2 for your jersey number?: I picked No. 2 because that's what number I was given in 8th grade and I tried to stick with it.
9. What college(s) do you have your eyes on ? : The colleges I'm looking at are Western Michigan and I.U.
10. What would you say are your best attributes?: I would say my ability to box out defenders and catch the ball are my best attributes.