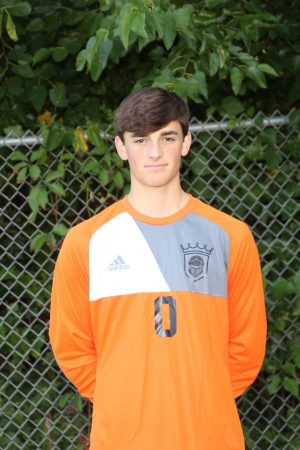 Nathan Blosser didn't plan on being a goalie, but a broken back changed his Soccer journey.
Blosser, a Junior for the Penn Boys Soccer Team, started playing the sport at the age of eight.
In the seventh grade, Blosser suffered a stress fracture in the L-5 vertebrae. He was unable to engage in physical activities for six months.
When Blosser got the green light to return to physical activity, he wasn't in the shape to sprint up-and-down the field like he had as a striker.
"I still wanted to go back to soccer," Blosser said. "I was a striker, but I switched to goalie because I wasn't in the physique that I needed to be."
Playing goalie allowed Blosser to return to Soccer quicker than if he stayed with the striker position. He eagerly accepted that role, and ended up staying with it.
"I learned to embrace the position," Blosser said.
Blosser has excelled at the position for Penn. He recently earned a shutout in Penn's 1-0 victory against No. 1-ranked Marian, a critical victory that helped the Kingsmen earn a share of the Northern Indiana Conference North Division Championship. Blosser played an exceptional game against Marian. He played with grit and determination as he played through a groin injury.
"Nate is a great player," Kingsmen teammate Tanner Wilson said. "He is very calm in all types of situations.
"In big moments, the team depends on him to help us win the game," Wilson continued. "Nate works hard in practice everyday and it shows during the games. He's getting better everyday and helping us win games."
Senior Captain Max Bender had high praise on how Blosser carries out his role with the team.
"Nate (Nathan) is a game saver," Bender said. "He always comes up clutch when we need him most, and that's all we can ask for."
Playing the goalie position is challenging.
"You have to be attentive to the coaches who are trying to teach you what to do," Blosser said. "You can learn a lot from the coaches. You have to have good reaction times, and be able to predict where the ball will end up so you know where you need to be."
Blosser said that he appreciates his Penn Soccer experience.
"Penn boys soccer is a fun environment to be part of," Blosser said. "We treat each other like a family."
Blosser has many friends that he has met through the soccer program and is viewed as a vital part of keeping the team together.
Blosser is looking forward to continuing his recent success for the rest of the season and looks forward to being a leader next year for his senior season.