Getting to Know: Brock Oldick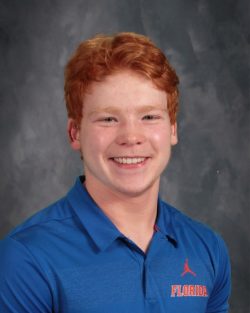 Brock Oldick is a Sophomore who is a wide receiver on the Penn Kingsmen Football Team.
When did you start to play football and who got you into the sport?: I started playing football in seventh grade. I had always been a huge fan of the sport in general and it was probably my mom that influenced me to start watching and also influenced me to become a fan of the University of Florida, because she and my dad both attended UF for graduate school. I also played flag football for many years before I began playing tackle.
What position do you play and why?: I play wide receiver. I basically just play wherever the coaches want me and wherever I can best help the team. I have also played safety, cornerback, outside linebacker, and running back before. I also am on special team units like kickoff return, punt, punt return, and kickoff.
What is your favorite memory of playing football?: This is a really tough question because I have so many. In eighth grade during Discovery's last game of the season against Goshen, the game went into four overtimes and Discovery finally won with a goal-line stand on fourth down. That was probably the most suspenseful and exciting game that I've ever been a part of. My other choice would be the Penn vs. Elkhart game during my freshman year. We were playing our worst game of the season by far but rebounded with some really memorable explosive plays in the second half. That game was probably the best personal performance I've ever had.
Do you want to play college or even pro football?: I would love to be offered some type of scholarship or other special opportunities to play college football. Perhaps I may end up walking onto a team instead. I would have to see from there if I would like to pursue a further athletic career after four years, but I would jump at the chance to play in college, as long as the college was also a good fit for me academically, etc.
What are some goals you have for the next two years of High School?: The biggest one is obviously to bring Penn two more state titles. For a personal goal, I'd really like to set some records in the weight room as well.
What is something a coach has said that will stick with you for life?: While addressing the team, one of my coaches said, "I've only seen one person come in and work as hard as they can every day. And if you have to think about it, it's not you."