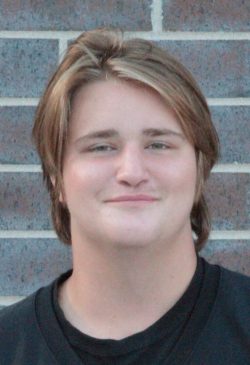 By CARTER RICHARDSON
Brendan Huffman is a sophomore on the Kingsmen Football Team. He is a defensive lineman.
What do you love about football:? The brotherhood and hitting people.
What's the best advice you've received about playing football, and who was it from:? "Do it for the guy next to you" – Coach Cory Yeoman.
What's your fire-up song:? "Till I Collapse", by Eminem.
What is your best moment in football so far?: Forcing a fumble Freshman year and everyone started jumping on me.
Who is your favorite Pro or College Football Player, and why?: Lawrence Taylor and his passion for the game.
What is your favorite Pro or College football rivalry game to watch?: USC v.s. Notre Dame.
If you could have dinner with any three people currently living, who would they be, and why?: 1. Adam Sandler, because he's funny; 2. Mike Trout, because I look up to him and how he plays the sport baseball; 3. Kanye West, because he can teach me about business.
Which teammate has had the most influence on your game?: Darrel Osman, because he motivates me to do my very best at everything I do.
What hashtag best fits you?: #cashmoney
What are your pre-game rituals?: Don't eat before the game and listen to my hype playlist.