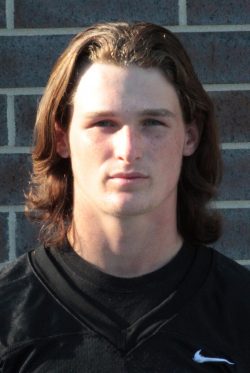 Zach Hoskins is a Junior at Penn High School. He plays both Baseball and Football for the Kingsmen.
How does playing two sports benefit you?: Playing two sports benefit me by keeping me in shape and getting me stronger mentally and physically. 
What has missing a whole baseball season due to COVID taught you?: Missing a whole baseball season has taught me how to push through things when times get rough.
How do you feel about the changes to the defense from last year to this year?: It was hard at first, because I don't like playing man defense all the time, but I'm starting to get used to it. 
What have you done in the off-season to prevent what happened in sectionals last year?: I've been working very hard getting stronger and faster to be able to make the plays that weren't made last year. 
What's one of your best memories in sports?: One of my best memories has to be coming up with the varsity my freshman year to pitch in a game with my brother. 
Did growing up with an older brother motivate you in any way?: Yes it did, it made me want to be better than him in every way. 
Do you think online schooling helps or hurts athletes?: I think it hurts athletes, because we just sit around all day looking at a screen, then have to go out and practice or play in a game.
Who's your favorite basketball team?: My favorite basketball team is the Lakers.
Who's your favorite football team?: My favorite football team is the Steelers.