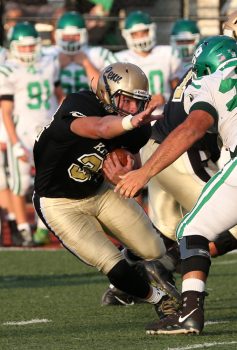 Penn High School unleashed a big plays in the second half to pull away from Valparaiso for a 21-3 high school football victory in the season opener on Friday, Aug. 17, 2018.
Valparaiso led 3-0 at halftime.
Ryan Whiteman put the Kingsmen on the scoreboard when he broke loose for a 40-yard TD with 3:47 left in the third quarter.
Wild Bunch hit man Caden Paquette then stung the Vikings with a Pick-6, returning an interception eight yards with 2:42 left in the fourth quarter to put the Kingsmen ahead 14-3.
Lightning struck again as Whiteman broke loose to sprint 29 yards with 2:10 left in the fourth quarter and the Kingsmen pulled ahead 21-3.
Whiteman finished with 88 yards on seven carries.
Kingsmen quarterback Ron Powlus completed eight passes for 100 yards.
Valpo 3 0 0 0 – 3
Penn 0 0 7 14 – 21
V – FG Elias Sewell 25
P – Ryan Whiteman 40 (Ryan Majerek kick)
P – Caden Paquette 8 interception return (Ryan Majerek kick)
P – Ryan Whiteman 29 (Ryan Majerek kick)