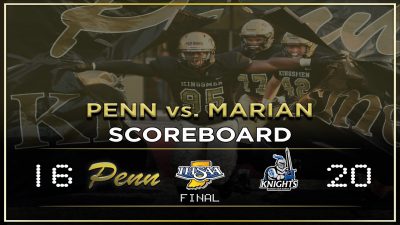 No. 2 Class 3-A Marian scored a 20-16 victory against the Penn Kingsmen on Friday, Sept. 25, 2020.
Kyle Riffel scored a pair of touchdowns on runs of 10 yards and 1 yard. Riffel finished with 75 yards on 18 carries.
Ryan Majerek kicked a 31-yard field goal and an extra point.
Quarterback Ron Powlus was 18-of-31 passes for 171 yards.
Nick Favilla hauled 12 catches for 115 yards.
Penn's Wild Bunch defense forced five turnovers.
Ryan Plummer intercepted a pass in the first quarter to set up a Kingsmen TD.
Seth Jankowski's fumble recovery set up Riffel's 1-yard touchdown run.
Jankowski had an interception to set up the Majerek field goal.
Owen Wisemen pressured Marian's QB into throwing a pick, with Zach Hoskins coming up with the theft.
Ryan Treber recovered a fumble.