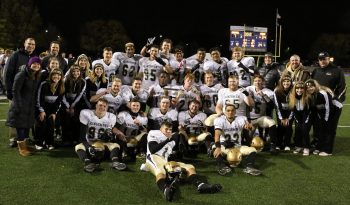 Penn High's Kingsmen dethroned the IHSAA Football Class 6-A defending State Champion with full force, defeating Carmel, 34-7, on the Greyhounds own field on Friday, Nov. 17.
Coach Cory Yeoman's Kingsmen advance to the Class 6-A State Championship Game. Penn (12-1) plays Indianapolis Ben Davis (13-0) at 7 p.m. on Saturday, Nov. 25, at Lucas Oil Stadium, home of the NFL's Indianapolis Colts.
A 72-yard punt by Penn's Max Chaffee and then a shanked one-yard punt by Carmel flipped the field in the second quarter, and the Kingsmen took advantage. Ryan Whiteman scored on a five-yard run and the Kingsmen grabbed a 7-0 lead.
Jackson Weston picked off a pass with :34 left in the second quarter, and the Kingsmen struck for a 14-0 lead. Ryan Lynch connected with senior Zach Usenick for 14 yards for a Kingsmen TD.
Lynch blasted through the Carmel defense for a 23-yard TD run midway through the third quarter as the Kingsmen surged to a 21-0 lead.
Caden Paquette then stunned the Greyhounds when he intercepted a pass and zoomed 94 yards for a Pick-6, giving Penn a 27-0 lead.
George Ohlson's 13-yard TD strike from Lynch finished the Kingsmen scoring.
Drew Schneider contributed two interceptions in the Kingsmen victory.