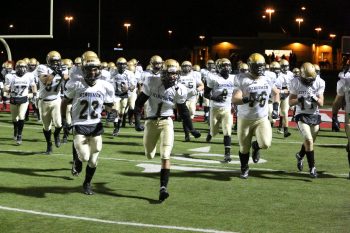 By GARRETT WENZEL
The Penn Kingsmen football team traveled to face the Bulldogs of Crown Point on a frigid night for the IHSAA Football Class 6-A Regional Title on Friday, Nov. 10.
Penn pounced on Crown Point from the start and left the Bulldogs in the cold, earning a 33-3 victory.
The Kingsmen started off hot.
Senior Hunter Whitlow got the Kingsmen on the board with a 1-yard TD run to put the Kingsmen up 7-0.
On the next drive, Ryan Lynch passed to George Ohlson for the Kingsmen TD to put the Kingsmen up 14-0.
Penn expanded its lead to 20-3 when Ryan Lynch flipped a pass to Ryan Whiteman, who sprinted for 64 yards to the end zone.
Senior Zach Usenick then hauled in a pair of TD passes from Lynch to finish off the 33-3 victory.
The Kingsmen have now won 11 in a row and move to 11-1.