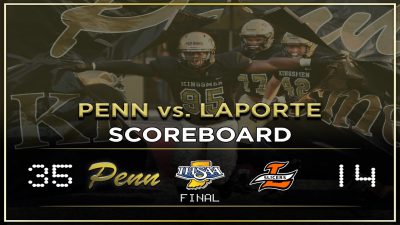 Penn used big plays on offense and defense to roll past LaPorte 35-14, in high school football action on Friday, Aug. 28, 2020.
Tye Zahner's 35-yard interception return gave the Kingsmen their first touchdown with 5:05 left in the quarter.
Later in the quarter, Alec Hardrict had a 7-yard run to help the Kinsgmen to extend their lead 14-0.
Penn stung LaPorte in the second quarter when quarterback Ryne Buckley took the snap and pitched the ball to wide receiver Nick Favilla. Favilla, who switched to quarterback last season when starter Ron Powlus was injured, threw a pass to Carson Mumaw for a 17-yard TD play.
Mumaw also caught a one-yard TD pass from Powlus.
In the third quarter, Favilla made an exceptional 60-yard touchdown pass from Ron Powlus to get the Kingsmen a 35-0 lead.
Braden Primrose kicked five extra points.
Key stats:
QB Ron Powlus had a great game going 4-of-8 passing, throwing for 133 yards, and throwing for 2 TD's.
Alec Hardrict had a total of 18 carries for 67 yards.
Carson Mumaw snared 4 receptions for 63 yards and had 2 TD's.
Nick Favilla contributed to the Kingsmen offense by having 2 receptions for 74 yards while having 1 TD and also throwing for 1 TD.
The Gold Rush offense was 7-of-11 on third down conversions.
Penn's Wild Bunch Defense forced 4 turnovers.
Penn's Josiah Williams forced a fumble that was recovered by Owen Wiseman.
Also, Penn's Seth Jankowski pick off a LaPorte pass.