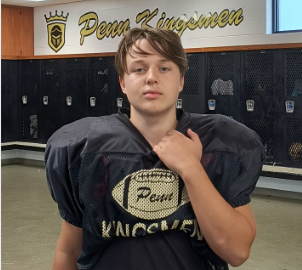 Elliot Wadenvik grew to love American Football in his native Sweden.
Now, he's experiencing American Football first-hand.
A 5-11, 195-pound defensive lineman, Wadenvik is on an exchange trip to Penn this year.
Wadenvik started playing Football about two years ago.
"Yes, we do have football in Sweden," Wadenvik said. "The football here is much more physical and fast-paced then it is back home in Sweden.
"I think the main reason I got interested in football was because of the physical part of it. But I also thought it looked cool and I wanted to try it. My dad played a bit of football, so he pushed me to do it."
Wadenvik is also a power-lifter.
"I have done power-lifting for about three years now," Wadenvik said. "I really like power-lifting and would love to compete more in it."
Wadenvik loves tackling, and hopes to continue playing Football when he returns to Sweden.
Wadenvik said that he appreciates his exchange learning opportunity.
"Yes, so far I like it here, I would say I'm fitting in quite well," Wadenvik said.
One thing that has helped him fit in, is his host family, the Riehms. He said he and his host family have a lot in common and they do a lot of fun things together.
"I haven't really felt homesick yet," Wadenvik said. "I miss my family back home, but haven't really gotten homesick yet."
Wadenvik said one of the reasons why he went on an exchange trip this year was because of his father.
"My dad has told me stories of when he was my age and went on exchange," Wadenvik said. "That's one of the reasons why I went, because I wanted to experience that for myself."