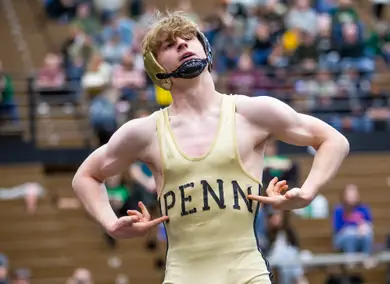 The Penn Boys Wrestling Team defeated Elkhart in the season opener, 44-18.
Coach Brad Harper says he is fired up about the win. This match was last year's Sectional Champions against each other.
Leading off for the Kingsmen at 182 lbs. was Vinny Freeman. He came out with a mission and got the fall for the Kingsmen.
VJ Turna followed up at 220 lbs. with a throw and the stick for six.
Travis Sears lost in heartbreaker overtime. Ryan Schmitendorf had a quick six followed up by Dylan Bennett's quick six.
Bryce Denton had a pin as well as AJ Steenebeke, with the stick followed up by Zymarion Hollyfield.

The Kingsmen improve to 1-0 on the season with a win over Elkhart. Now the Kingsmen prepare for a tough tournament at Lake Central called the Harvest Classic.