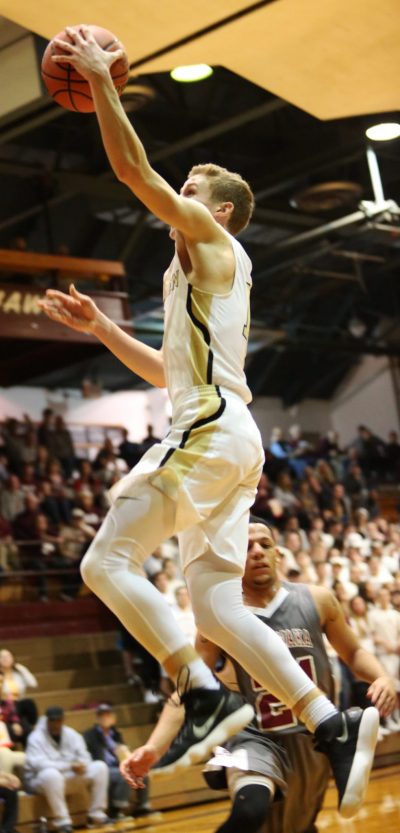 Penn High's Kingsmen rallied from a 13-point deficit and stunned Mishawaka on its own court, 52-48, in the opening round of the Class 4-A Mishawaka Sectional on Tuesday, Feb. 27.
Coach Al Rhodes' Kingsmen avenged a 55-50 regular-season loss to Mishawaka.
"I was extremely proud of the way our team fought back after a slow start versus Mishawaka," Rhodes said. "Our rebounding in the second half was tremendous as well as a lot of clutch defensive plays."
Penn (14-9) takes on No. 2 South Bend Riley (22-0) at 6:30 p.m. on Friday, March 2, in the Mishawaka Sectional semi-final round. Mishawaka's season ends at 14-9.
Mishawaka led 24-11 in the second quarter but the Kingsmen rallied to close to 26-20 at halftime.
Mishawaka owned a 34-31 lead with less than a minute left in the third quarter when Kingsmen point guard Drew Lutz unleashed a lightning bolt.
Lutz slugged the Cavemen for an electrifying 8-0 run in 35 seconds, nailing a 3, and then scoring on two coast-to-coast fastbreaks after making steals. The last fastbreak hoop was an And-1, and Lutz hit the free throw to give Penn a 39-34 lead at the end of the third quarter.
Penn took command in the second half, outscoring Mishawaka 32-22. The Kingsmen committed six turnovers in the first half, while Mishawaka only turned the ball over once and held an 11-2 edge in points off of turnovers. In the second half, Penn only turned the ball over five times, while force Mishawaka into eight turnovers. The Kingsmen outscored Mishawaka 15-3 in points off of turnovers in the second half.
Lutz finished with 17 points and dished out seven points. The Junior Point Guard ripped off three steals, and blocked four shots.
Beau Ludwick scored 15 points, including three daggers from 3-point range.
Noah Applegate scored 10 points and powered inside for seven rebounds.
PENN 52: Drew Lutz 17, Beau Ludwick 15, Luke Carlton 0, Noah Applegate 10, Noah Krathwohl 2, Kegan Hoskins 6, Jeffrey Hemmelgarn 2.
Mishawaka 48: Payton Johnson 3, Grant Jablonski 0, C.J. Fisher 0, Sam Shively 3, Isaiah Evans 0, Tresean Jefferies 7, A.J. Rosebush 2, Kenny Meniefield 0, Dylan Hall 13, John Binion 20.
PENN             9          11        16        16 – 52
Mishawaka    15        11        8          14 – 48
Three-pointers: PENN 4 (Beau Ludwick 3, Drew Lutz 1), Mishawaka 4 (Johnson 1, Shively 1, Jefferies 1, Hall 1).