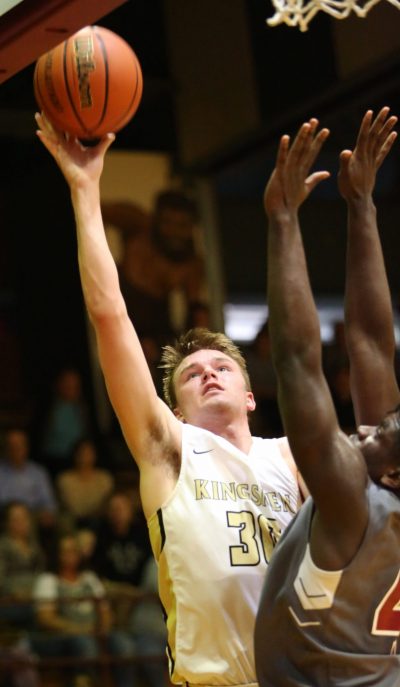 By CHINONSO EMENIM
As soon as the ball crossed half court, it was thrown in the air. To the eyes of most of those in the crowd at the Bremen High School basketball gym, it probably looked like an errant pass, thrown high and wide and headed out of bounds. In reality, it was a precise, perfectly placed throw, and on the receiving end, a powerful 200-pound frame was tracking the ball the whole way. He was carefully measuring his steps as he watched the ball come in, waiting for the perfect time to jump. A split-second later he had snatched the ball and slammed it through the hoop in midair, causing even a couple of the home team fans to clap in appreciation of the athletic display.
It's hard to miss Penn High School junior Noah Applegate in a crowd — mostly because he usually stands head and shoulders above the crowd … and the rim.
Measuring in at 6-foot-6 and 200 pounds, Applegate has never been one to blend in to the background.
"As long as I can remember, I've been taller than everybody else,"Applegate reflected. He has used that size to his advantage, taking the Northern Indiana Conference by storm this basketball season, averaging more than 20 points and six rebounds a game in 2017-18.
In the Bremen game, Applegate scored 25 points and became just the sixth player in Penn Boys Basketball history to surpass the coveted 1,000-point mark.
Applegate's Black and Gold experience started three years ago, when he tried out for the Penn High School basketball team during his freshman year. Applegate's skills had already piqued the interest of head basketball coach Al Rhodes.
"When I watched him play in eighth grade, I could see that he had a tremendous feel for the game, and he obviously had the size," said Rhodes. Applegate made the team, and later on joined rarefied air when he received the honor of being named to the varsity team as a freshman.
"Basketball-wise, it was a great experience, because it showed me what I needed to work on to succeed at the next level," said Applegate of his experience as a freshman. "I got to play against some of the top competition in the state, and the older guys on the team made everything feel normal."
Applegate continued to show promise under Rhodes as a sophomore.
"One thing I want him to accomplish before he leaves here is the ability to play all five positions," said Rhodes. "He used to play only with his back to the basket, but we've developed his guard skills to the point where he became a versatile player for us that we can use in different situations."
In his reflection on his own game, Applegate also recognized the evolution of his skills and the advantages that it brings.
"Now that I can shoot the (three-pointer), it makes it easier to drive to the basket because the defenders can't hang back anymore, and the ball-handling and passing put my teammates in better positions to score," Applegate said.
As his junior season is starting to wrap up, Applegate has his sights set on a state championship. But emerging as one of the team's primary offensive options and one of its better defenders comes along with some responsibilities.
Along with Drew Lutz and Noah Krathwohl, Applegate was selected to assume a leadership role as one of the team captains this year.
"We asked a lot of him this year, but I have no doubt that he's up to the task," Rhodes commented.
As for Applegate, he has embraced the opportunity to be a leader on the team and mentor the younger players using the lessons that he learned during his freshman and sophomore seasons. "The freshmen are going to be pulled up pretty soon here, so I want to make sure that they're comfortable and understand what it takes to succeed," said Applegate.