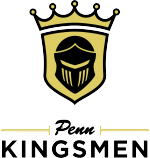 No. 10 Class 3-A South Bend Washington held off a furious rally by the Penn Kingsmen to score a 64-60 victory in Northern Indiana Conference Boys Basketball on Thursday, Dec. 14.
Washington went on a 14-2 run on the way to a 19-9 first-quarter lead. The Panthers led the Kingsmen 33-23 at the half.
The Kingsmen outscored the Panthers 15-5 to knot the score at 38-38 at the end of the third quarter.
Washington held off the Kingsmen in the final quarter.
Noah Applegate led Penn with 22 points, Drew Lutz scored 13 points, and Noah Krathwohl scored 11 points.