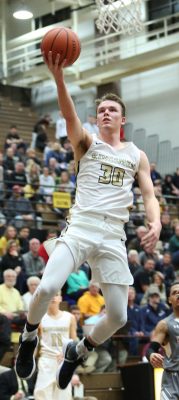 BY ALEX FADELY
Noah Applegate's tremendous skill set has helped Penn's basketball program for the last three seasons,  and will continue to do that in his upcoming senior season. For Applegate, that will not be the end of his basketball career, as he has decided to take his talents to Hillsdale, Michigan, and play for the Hillsdale College Chargers.
"Academics played a huge role in my decision," Applegate said. "I had to think about where I could go that would set me up for where I want to be in the future."
Hillsdale is well renowned for its academic programs. However, academics isn't the only area where excellence is expected at Hillsdale. The Chargers' NCAA Division II Athletics programs tend to find success in almost all areas. Last season, the Chargers won the Presidents' Cup, which is awarded based on an average of every team's conference success.
The basketball team found a good amount of success last season in particular. The team had an impressive overall record of 21-10. They even advanced to the championship game in the Great Midwest Athletic Conference, and earned a fifth seed in the NCAA Division II Regional Tournament. On joining a successful team, Applegate said, "I'm really excited to join a successful basketball program and I'm definitely looking forward to helping continue the success. I think I'm really going to like the team that I'll be a part of."
While Applegate is excited for this next chapter of his career, he'll always be appreciative of his time at Penn. "The coaches here at Penn have helped me tremendously with my game. They've showed me the right way to do things and they have helped me improve every year I've been here," Applegate said. "Another important part of my time here has been my connection with my teammates. They have helped me enjoy every minute of my Penn experience."
The Penn community will get to see him play for the Kingsmen for one more season, but will look forward to his future triumphs as a part of the Hillsdale Chargers!