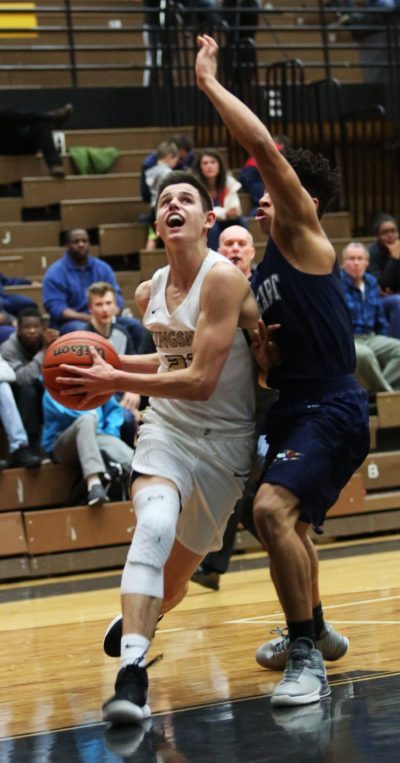 Penn High's Kingsmen used a balanced scoring attack to defeat Elkhart Central, 58-43, in high school basketball action on Tuesday, Feb. 13.
"Crucial defensive stops and excellent execution on offense were the keys to the Kingsmen's win over Elkhart Central," Penn Head Coach Al Rhodes said. "Each time the Blazers made a run, the Kingsmen were always prepared to answer."
Penn improved to 11-7 overall and 5-4 in the Northern Indiana Conference. Elkhart Central is 8-11 and 4-6.
Beau Ludwick, Noah Applegate and Noah Krathwohl scored 13 points each.
Drew Lutz scored 12 points and dished out nine assists.
Penn connected on a torrid 65 percent of its shots (22-of-34). The Kingsmen hit 67 percent of their shots (12-of-18) in the first half.
Penn forced 17 turnovers and went on to outscore the Blue Blazers 25-8 in points off of turnovers.
PENN                         16        12        13        17 – 58
Elkhart Central         8          12        15        8 – 43
Three-pointers: PENN 3 (Drew Lutz 2, Noah Applegate 1), Elkhart Central 7 (Kiedon Warrell 3, Richard Wayker 2, Cole Alberson 2).