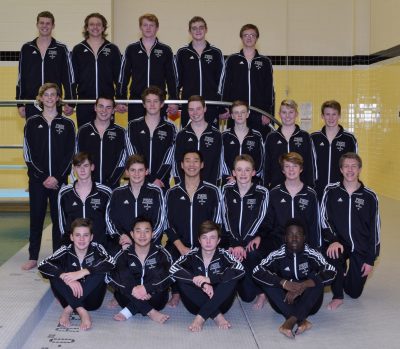 Penn High School swimmers dominated the Penn Sectional Preliminaries on Thursday, Feb. 15.
Kingsmen swimmers placed first in eight of the 11 events that were competed in the prelimaries. Bremen took two firsts and Marian took one first.
Penn swimmers will pursue individual Sectional Championships and the Team Championship at the Finals on Saturday, Feb. 17, at Penn. The Dive Finals are set for 9 a.m., and the Swim Finals are set for 1 p.m.
Penn is seeking its eighth consecutive Boys Swimming and Diving Sectional Championship and 18th in Program history.
The complete preliminary results and heat sheets are posted below.
Here is a list of Kingsmen first-place finishers at the preliminaries:
200 freestyle: Joel Cummins 1:49.12.
200 individual medley: Evan Dies 1:59.79
50 freestyle: Matthew Rach 21.97
100 freestyle: Axel Brandenburg 49.09
200 freestyle relay: Kyle Brothers, Joel Cummins, Ethan Backhus, Troy Weber 1:33.19
100 backstroke: Aaron Dies 53.13
100 breaststroke: Evan Dies 1:00.74
400 freestyle relay: Aaron Dies, Troy Weber, Matthew Howell, Connor Craig 3:29.48