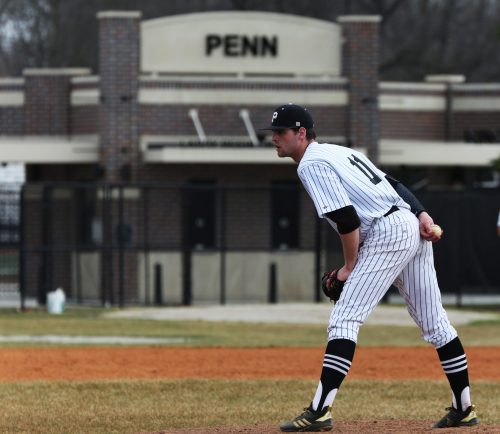 Penn High School senior pitcher Kegan Hoskins punished South Bend Riley, firing a no-hitter and blasting a grand slam homer as the No. 1-ranked Kingsmen rolled to a 10-0 victory in five innings on Monday, April 8, 2019.

"My slider was effective and kept the Riley batters off balance," the 6-foot-6 right-handed Hoskins said of his dominant pitching performance. "It feels special and it was a team effort. My catcher Brendon Denaway called a great game. The infield was solid and made great plays."
Hoskins triggered the Kingsmen offensive assault with a grand slam in the first inning.
"Once the count got to 3-1, I knew the Riley pitcher was throwing the fast ball," Hoskins said of his slam. "I waited back and hit it out. It was a great feeling."
Hoskins finished with five RBI's. Hoskins and Hayden Berg finished with two hits each. Kameron Koch hit a triple, and Berg and Adam Hummel each hit a double.