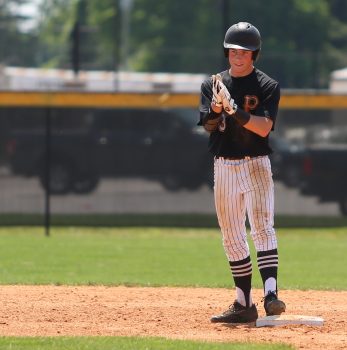 Penn Baseball second baseman/pitcher Hayden Berg will continue his academic and athletic careers at Western Michigan University.
Berg punished opposing pitchers in the 2017 season as a junior, hitting .371. He was 5-2 on the mound. Berg earned NIC honorable mention as a second basemen.
Berg said that he is looking forward to being part of the Western Michigan Baseball Program.
"They have a really good baseball program and have had great success in the past," Berg said. "They really know how to develop their players for the next level."
Penn Baseball Head Coach Greg Dikos said that Berg's work ethic is a key factor in his development.
"His success didn't come by accident," Dikos said of Berg. "Hayden is certainly one of the hardest workers and most committed on our team."
Berg's drive has led him to individual success and also team success. He was a big reason the Kingsmen won the sectional title last season. With his success on and off the field, he has been given the opportunity to play Division I baseball next year.
Berg also gives credit for his success to the Penn baseball program. "The coaches have really helped out a lot, they know what it takes to get us to the collegiate level. They always push us to our potential and it really payed off in the long run," Berg said. With all the hours spent on the game Berg will go to the next level well prepared.