Football: Kingsmen turn back Pirates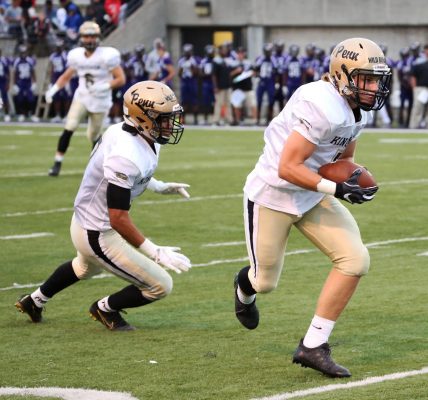 Penn's Kingsmen stung Merrillville with a pair of Pick-6's and the Kingsmen prevailed for a 28-16 high school football victory on Friday, Aug. 24, 2018.
In the first minute of the game, Penn hitman Ryan Schmitt ripped off a Merrillville pass and returned it 22 yards for a touchdown.
Merrillville cut the lead to 7-3 and then pulled ahead 9-7.
Penn rallied with a field goal by Alex Kennach and took a 12-9 lead at halftime thanks to a safety when Merrillville snapped the ball out of the end zone.
Another Alex Kennach field goal made it 15-9 Kingsmen.
On the Pirates' next drive, Penn returned to its #GrandTheftFootball attack as Drew Schneider would take an interception 62 yards for Penn's second Pick-6, giving the Kingsmen a 21-9 lead.
In the fourth quarter, the Kingsmen tacked on another TD when Ron Powlus connected with George Ohlson for 6 yards to extend the Kingsmen lead to 28-9.