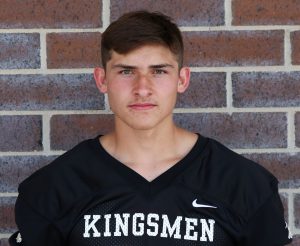 After yet another solid game this past week against Homewood-Flossmoor, Zack Messer is really settling into his varsity role in the Penn Kingsmen Football Defense. It looks like it's going to be a promising season for Messer and the Wild Bunch. Being a two-sport athlete is not an easy task, but for Messer this is no problem at all. Cole McCullough recently interviewed the Kingsmen Junior:
So Zack, you play football and baseball at Penn, what is it like balancing both those things on top of your academics?
Balancing two sports on top of school is not an easy task. The most important thing to stay caught up is to put every second of down time in the classroom to good use.
You are a pretty tough kid being a catcher and an outside linebacker, is there anything about being a catcher that helps you in football or vice versa?
The most beneficial thing from playing two sports is staying in shape and being active in the off-season.
What does your off-season look like? What things are you doing to prepare for the next season?
With playing two sports, the off-season is a short window, but running to stay in shape and continuing a healthy diet are the goals in the off-season.
What are your plans after High School?
Playing a college sport, baseball or football, is the main goal.
Favorite NFL Team?
Chicago Bears.
Any Nicknames?
My friends and coaches usually call me 'Mess'.
Goals for the season?
I would say the goal for this season is just to play together as a team and give our best effort no matter the outcome.