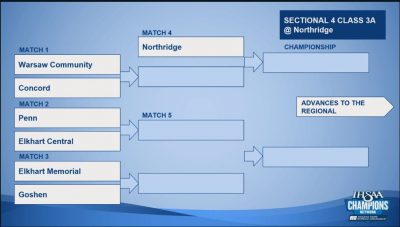 Penn's Boys Soccer Team opens 2019 State Tournament action against Elkhart Central on Tuesday, Oct. 8, at Northridge High School.
Goshen plays Elkhart Memorial in the second first-round game on Tuesday, Oct. 8.
Sectional play at Northridge starts on Monday, Oct. 7, when Warsaw plays Concord at 6 p.m.
Semifinal action at Northridge is set for Wednesday, Oct. 9. The Penn-Elkhart Central winner will play the Elkhart Memorial-Goshen winner at 7 p.m. Northridge plays the Warsaw-Concord winner at 5 p.m.
The Sectional Championship Game at Northridge is scheduled for 2 p.m. on Saturday, Oct. 12.
Tickets are $6 for a single game, or $10 for the entire tournament.
The winner of the Northridge Sectional advances to the Penn Regional on Saturday, Oct. 19, to play the winner of the Valparaiso Sectional in the second game. The South Bend Adams Sectional Champion plays the Munster Sectional Champion in the first Regional contest.