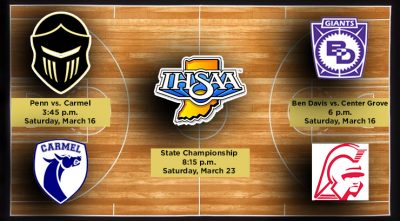 Penn High School Semi-State Boys Basketball tickets ($10 each) are now on sale in the Athletic Office from 7:30 a.m.-4 p.m. Tuesday-Thursday and 7:30 a.m. -12 p.m. on Friday.
Penn plays Carmel at 3:45 p.m. on Sat., Mar. 16, at Lafayette Jefferson H.S.
A fan bus is available for Penn students at a cost of $5 a person.
Cost a person: $5 for bus. $10 for ticket. Payable in the athletic department before 10 a.m. on Friday, March 15.
Departure from Penn: Door D at 12 p.m.
Return: 8:30 p.m. to Door D.
Food not provided. Bring money for food at game.
Wear Black!