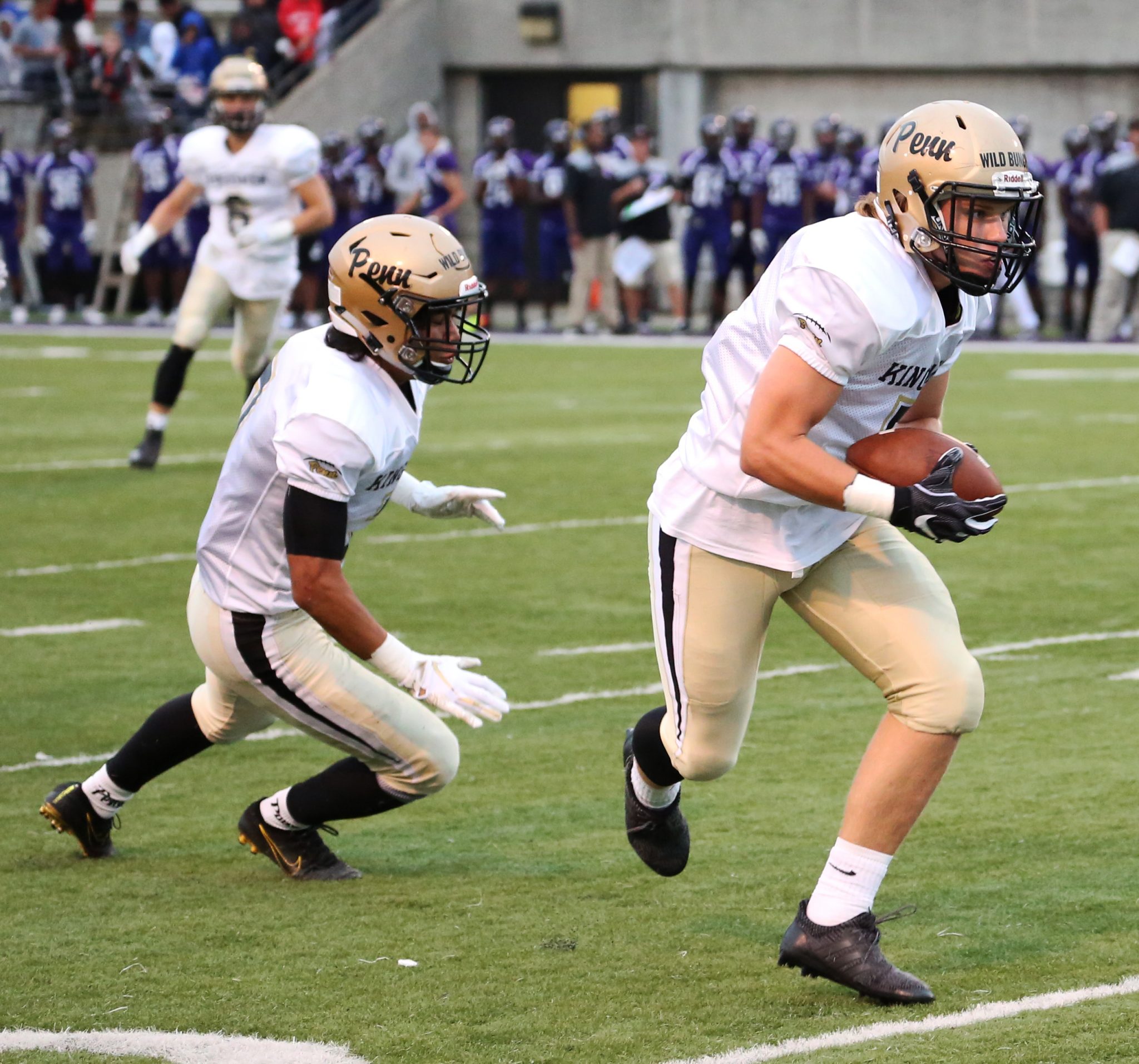 Pop! Crack! Crrrunch! Ryan Schmitt with the big hit!
This bone-jarring scene is recurring in Penn football games. As Penn's starting inside linebacker, Schmitt has been a major force on the team's defense, whether it's pulling off a Pick-6 against Merrillville, or forcing a fumble against South Bend Adams. The 6-foot-0, 190-pound senior is notorious for the intensity and energy he brings to every game.
As Penn's head coach Cory Yeoman puts it, "he plays fast and furious."
His own teammates are very aware of Schmitt's impact as well.
Safety Drew Schneider said of his linebacker, "(Schmitt) knows what he's doing; he flies around, and he makes plays. He has great instincts, and you can always count on him to do the right thing. He brings a lot of energy to the defense and gets everyone fired up. And on top of all that, he hits like a truck."
Schmitt has an internal drive that is unparalleled. He attributes it to the rewarding feeling of playing the game and deep tradition of Penn football.
"There is honestly no better feeling than hitting an opponent with full force, as it really can help with getting stress out of my mind," Schmitt said. "As a Penn football player, I feel as if it is a responsibility to come out each and every day with that same energy. Many of the great players in the history of Penn Football have come out with that same mentality on Friday nights, which is a tradition I take pride in carrying on."
The program is very important to Schmitt. The family of Penn football is especially essential to him.
"The brotherhood of men that fight together each Friday night is the most important part about Penn football to me," Schmitt said sincerely. "Without my teammates, no success would be possible to achieve. I am very grateful for the guys that are by my side every game."
As humble as Schmitt is, his level of confidence is sky high. He has big dreams for his future in football; he studies the best in the game, the players he looks up to, and emulates their behaviors.
"I model my playing style after some of the great NFL linebackers, Luke Kuechly and Brian Urlacher," Schmitt said. "These players have reached high levels of success at the highest level of football, which is something I've always dreamed about."
If Schmitt continues to work at the level he does, these dreams may not be very far-fetched.
Schmitt's prowess speaks for itself, but he is more concerned about the team than personal achievement.
"It is clear at the beginning of the season what our goals are as senior leaders: winning the (Northern Indiana Conference) as well as winning a state championship."
As Schmitt puts it, These goals are shared by the team. With the track the Kingsmen are currently on, an NIC and state title and are certainly feasible for Penn's team this year.