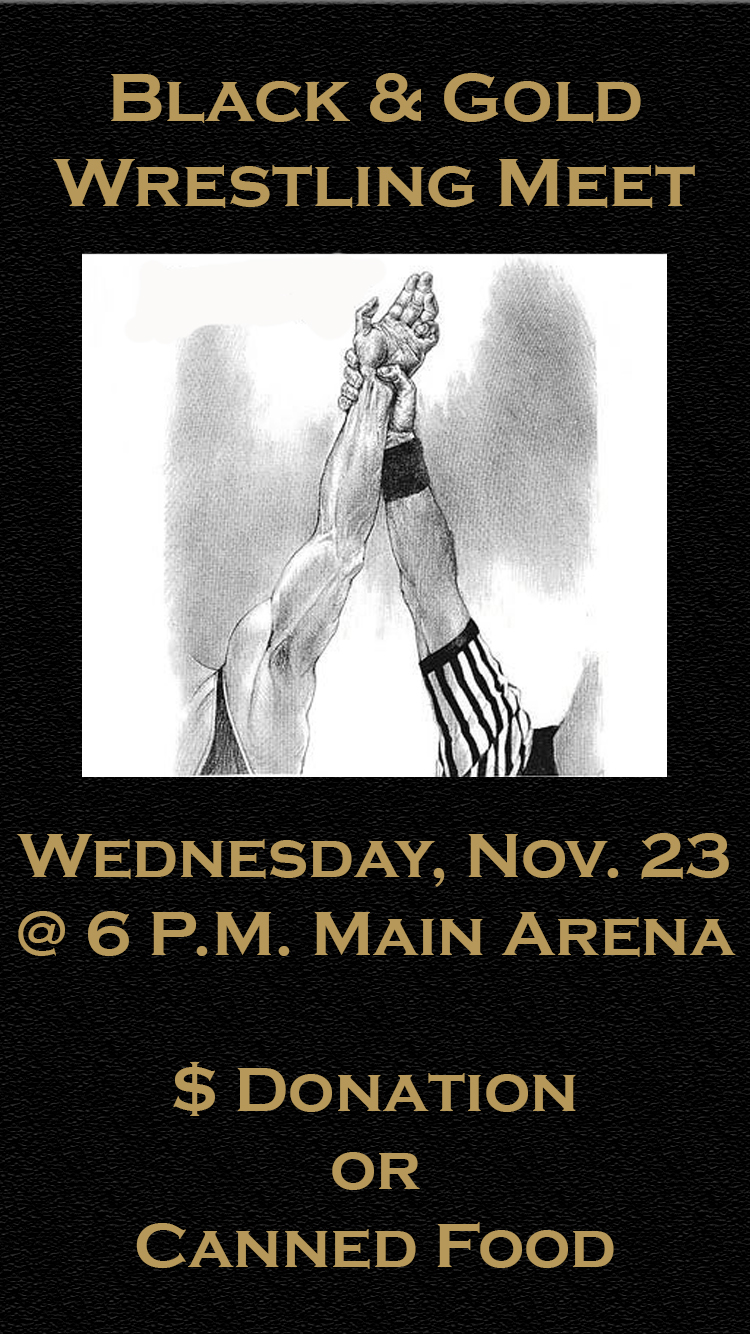 By JAROD SWANK
Tonight at 6 p.m. in the main arena, Penn wrestlers will square off against each other in a battle to determine who wins the varsity spot.
Cost of admission is either a cash donation, or a canned food that will go to the wrestlers' canned food drive.
This is an annual event called the Black and Gold.
Each year before Thanksgiving, Penn wrestlers go toe to toe with each other in front of a crowd of their family and friends, giving everything they have in attempt to win a varsity spot on one of the top wrestling powerhouses in the state.  
This is a legitimate dual meet with singlets, head gear and referees.
Come to the main arena with some canned food to watch your favorite Penn wrestler do battle with one of his teammates!
Penn Black and Gold Dual
Team Score will be kept
| | | |
| --- | --- | --- |
| Weight Class | Black | Gold |
| 106 | Evan Light | Nate Hadery |
| 113 | Charlie Meier | Kory Cavanaugh |
| 120 | Tanner DeMien | Alex Slates |
| 126 | Logan Hill | Jeffrey Harper |
| 132 | Ryan Varner | Garrett Caurro |
| 138 | Preston Risner | Otis Cassell |
| 145 | Austin Heater | Trace Manspeaker |
| 152 | Hayden Hensley | Exhibition Match |
| 160 | Jacob Suski | Ben Kahl |
| 170 | Jarod Swank | Brian Tuttle |
| 182 | Chris Momotiuk | Dustin Hochstetler |
| 195/220 | Steven Hendrix | Lance Tribbett |
| 285 | Antonio Martinez | Yehezquel Devault |
Penn Black and Gold Challenges
Exhibition Matches
No Team Score
| | | |
| --- | --- | --- |
| Weight Class | White | Bronze |
| 160 | Brice Heater | Kole Reppert |
| 106 | Daivyn Davis | Vince Sparrow |
| 113 | Kade Stone | Jose Guerra |
| 120 | Jai Pant | Derek Reed |
| 132 | Christian Cornelis | Ethan Odierna |
| 132 | Christian Haisley | Jensen Caurro |
| 138 | Austin Berger | Collin Mott |
| 120 | Jai Pant | Bryce Riveria |
| 145 | Vinnie Barnette | Roshan Gupta |
| 160 | Brice Heater | Kole Reppert |
| 182 | Ryder Moreland | Dylan Parrott |
| 220 | Jacob Thompson | Austin Elkins |
| 220 | Lennon Young | Jaminisin Anderson |
| 106/113 | Davyn Davis | Izak Newton |
| 113/120 | Brendan Freet | James Michaels |
| 113/120 | Kade Stone | Bradley Longest |