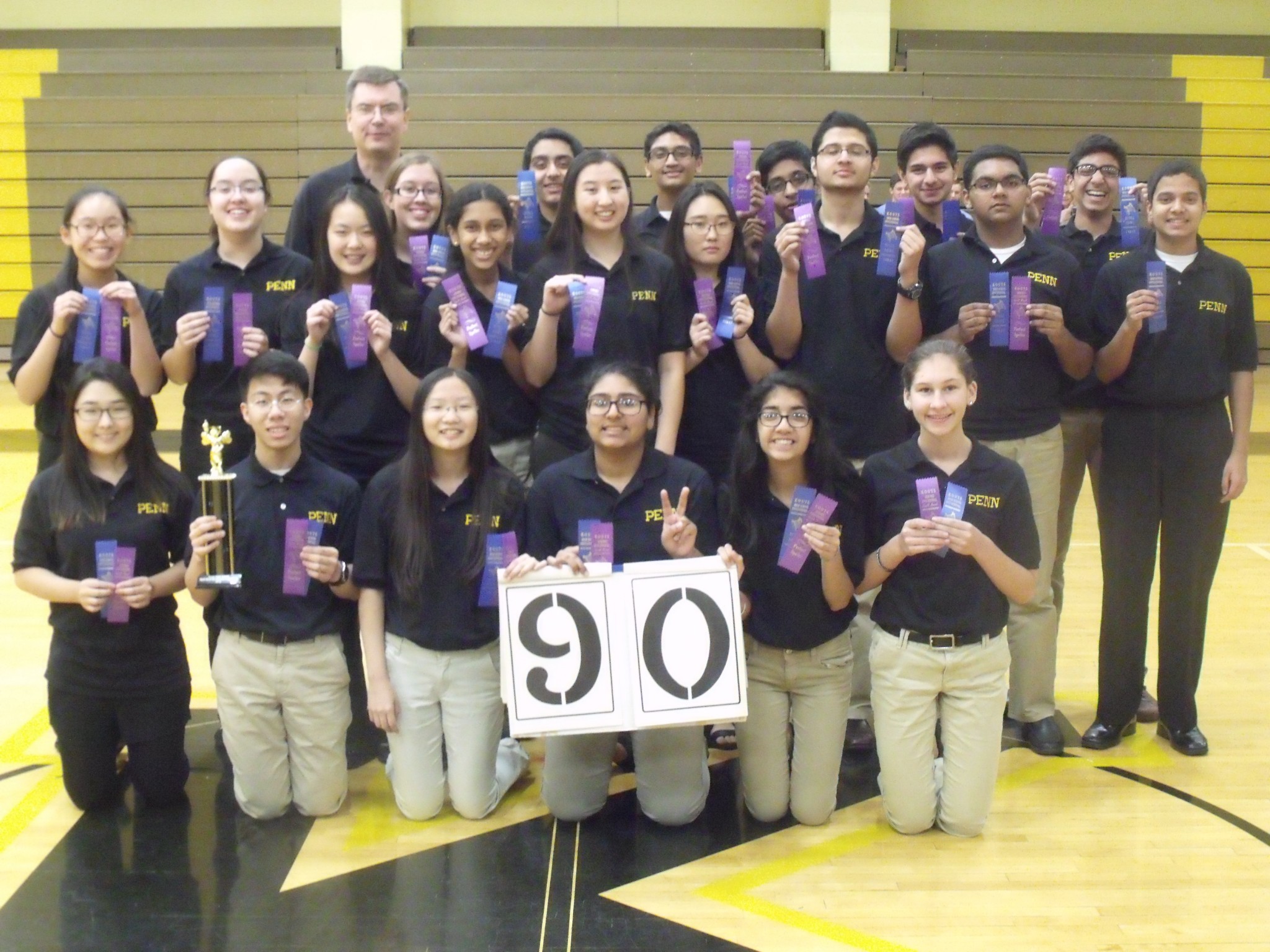 Penn High School's Hoosier Spell Bowl team recorded a performance for the history books
on Monday
night, October 19, when every one of the team's 21 spellers recorded  perfect scores of '9' at the Kouts Invitational II.
For the third time in five outings this season, the Kingsmen varsity spellers were perfect with a team score of 90, but
on Monday
night, the 10 PHS junior varsity spellers also turned in a perfect score of 90.  To top it off, the 21st Penn speller was also perfect.
It is believed that this was the first time in Hoosier Spell Bowl history that a school had 20 or more spellers turn in perfect scores at a single meet.
Here are the final standings for Kouts Invitational II:
1.)  Penn                                                     90
2.)  Kouts                                                    66
3.)  Hanover Central                                  62
4.)  Morgan Twp.                                       53
5.)  Washington Twp.                                38
6.)  LaCrosse                                            36
7.)  Rochester                                           25
8.)  Hebron                                                16
Perfect varsity spellers for Penn were:  Michelle Tapp, Athreya Sundaram, Muqsit Buchh, Kanika Arora, Yejee Oh, Presto George, Amy Bernard, Hannah Smith, Faihaan Arif and Chris Yun.
Perfect junior varsity spellers for the Kingsmen were:  Chelsea Chen, Fezaan Kazi, Alice Kwak, Priya Chaudhary, Ahsan Siddiqui, Ali Sualeh, Maggie Finnessy, Hahhan McGinness, Celine Wang and Tingyi Lu.
The 21st perfect speller for PHS was Jaylan Jaga.
For Penn, the perfect varsity score was the 43rd in history, more than any other school in the state.
Next up for the Penn spellers in the Penn Invitational II at
6 pm
on
Thursday, October 22,
in the Penn cafeteria. The public is invited to attend.
Submitted by Joe DeKever