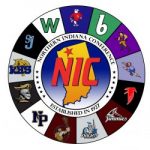 Penn and South Bend Riley swept the top honors in the Northern Indiana Conference Football North and South Divisions respectively.
Senior Safety Paul Moala, who led Penn High School to an appearance in the IHSAA Football Class 6-A State Championship Game, was named the Northern Indiana Conference North Most Valuable Player.
Penn coach Cory Yeoman was named the NIC North Coach of the Year. Yeoman coached the Kingsmen to the NIC North title. The Kingsmen finished 5-0 in the NIC and 12-2 overall.
Riley quarterback James Jackson, a 6-foot-1, 210-pound senior, was named the NIC South MVP. Jackson sparked a Riley resurgence in football that had the Wildcats post a 4-2 NIC South record and a 7-4 record overall.
Jarvis Edison, who guided Riley to its first winning record since 1997, was named the NIC South Coach of the Year. Riley was 2-8 in 2016.
The All-NIC Football selections were made by the league's coaches.
ALL-NIC NORTH
ALL-NIC SOUTH